Sale Items From $3 Shipped @ Beauty Boutique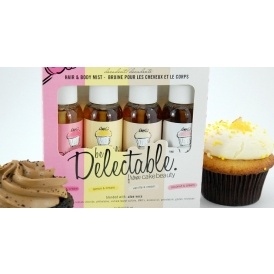 Have you shopped at Beauty Boutique before? It is owned by Shoppers Drug Mart which is pretty cool but you know what else? They are offering free shipping with no minimum purchase. Of course I am going to use this opportunity to check out their sale section! There are items priced as low as $3 there, which is always fab. Who doesn't love a spontaneous beauty purchase?! Might also make awesome Mother's Day gifts?
Have you had a chance to try any of the Cake Beauty Delectable products? I can put in a good word for the Be Delectable from Cake Beauty Vanilla & Cream. This cream is on sale for $7.59 and has great reviews. You can get the matching scented Hand Cream on sale from $12 down to $8.99 as well.
Just yesterday I went through my perfumes and makeup and threw out a bunch that were old or no longer used. But now my perfume shelf seems awfully empty. Perhaps I can replace one of my fallen favourites with the Katy Perry Spring Reign perfume which is on sale from $39 down to $28.99.
Shipping is totally free with no minimum spend!
(Expiry: 29th April 2016)