Net-A-Porter (US) Coupon Code: Free Shipping with Beauty Purchase ($20 US Value)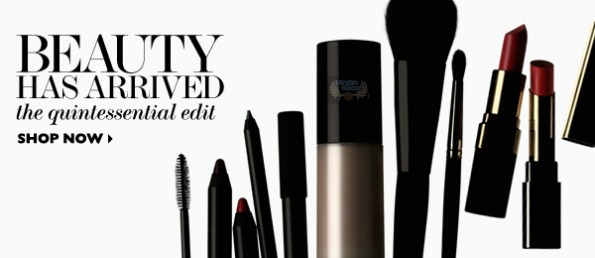 I am so excited about this coupon I could just squeal and then pass out. Almost. Net-A-Porter has released a coupon code for free shipping on any order that includes an item from their beauty section. I just tested the coupon code and it works for Canadian shipping fees too.
Click here to shop @ Net-A-Porter (US) now
Coupon Code: BEAUTY14
Discount: free shipping w/ beauty purchase
Expiry: 28th September 2014 @ 2.59AM EDT
I tested this coupon code on just a random beauty item that I found. The shipping to Canada is $20 US flat rate: no matter what you buy. After I applied the coupon code, the shipping came down to $0.

You do not need to order strictly beauty items; your order can contain anything as long as one item from the Beauty section is in your cart. In addition, not all beauty items ship to Canada, so watch out for shipping restrictions that appear in red on each page. I tried to buy a Butter London nail polish only to find it would not ship to Canada.
If you are looking for something inexpensive in the beauty section to add to your cart so you can load up on awesome clothing, here are a few suggestions. This Laura Mercier Velour Puff for putting on foundation or blush retails for $12 US. I also suggest the Philip B Hairbrush Cleaner for $15 US. I find it so frustrating trying to clean my hairbrush so this tool has a lot of appeal to me. It looks very handy!
While Net-A-Porter does not have any sales on, it is nice to have a free shipping coupon from the company, as it is so rare. Net-A-Porter gives you access to designers and other high-end brands that are hard to find in Canada, and in some cases, are just not available up here. While Net-A-Porter is designer driven, there are still items for Moosers on a budget. I just adore these Finds + Sarah and Bred PVC and canvas clutch bags in different colours for only $160 US. The clear PVC protects your canvas bag from the elements and provides extra visual appeal. Have it shipped to you free with this coupon and a beauty product purchase.
Customs/Duties are calculated upon checkout and added to your total. There will be no surprise costs when your package reaches you. You will also receive your purchases in two to three working days after your order has been accepted.