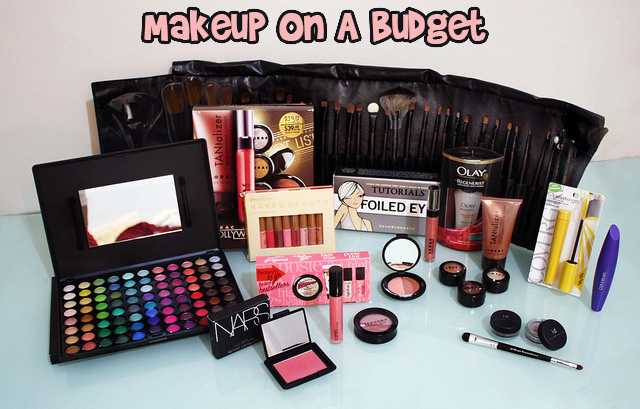 How much do you spend on your makeup? The average woman spends $15,000 in her lifetime on makeup, with $3770 going towards mascara, $2750 on eyeshadow, and $1780 on lipstick (source: Instyle).  Most women stock up their makeup at least five times in one year.
In the United States, women spend over $7 billion in one year on makeup alone, with $100 per month being the average spending on makeup (source: The Gloss).  That's $1200 a year, enough for that all inclusive trip to Mexico that you have been thinking about.
Our eternal quest for beauty doesn't have to come at a cost, though.  First of all, it is important to remember that inner beauty is what is important.  When you are glowing on the inside, you will glow on the outside.  If you're not feeling good on the inside, not taking care of yourself by reflecting on your day, drinking enough water, and being happy... no matter how much you spend on primping your face, puckering your lips, and blushing your cheeks, it won't make you beautiful.  We glow and are beautiful from the inside out, remember that.
If makeup is a necessary evil (or in some cases, a fun way to reinvent yourself from time to time), here are some tips on how to have makeup on a budget:
Make it Last Longer
The great thing about making your makeup last longer is that it is good for the environment, too.  The less plastic waste we keep out of the landfill, the better.
For mascara, a secret trick is to add a few drops of normal saline, pump the wand a little bit and et voila, your mascara is renewed for a little while longer.  If your mascara is really kaputz though, keep the wand, run it through the dishwasher, and use it as a brow groomer (source: Glamour).
For hardened nail polish, add a few drops of nail polish thinner and the consistency of the nail polish will then be as good as new (well, almost).
For lipstick, use every last bit by investing in a lipstick brush to pick up every last bit of colour.  Alternately, you can use a Q-tip cotton swab, but that might waste more product in the long run.
Also, if you're a fan of MAC products, they participate in a recycling program called Back to MAC whereby if you return six empty MAC products to recycle, they will give you a free lipstick!
Hit Up Your Drugstore
Instead of heading to expensive department store beauty counters (where lipsticks are upwards of $35 to $40 a tube!), head to your drugstore.  Elle.com has a great piece on top makeup artists sharing their favourite drugstore makeup brand secrets that won't break your budget.  Realbeauty.com also has a great list of top drugstore makeup products for under $25.
I look for more natural products and rarely go to the expensive department store for makeup products.
Samples Are Your Friend
I'm a big fan of samples.  They provide an opportunity to try something new, to try a different colour, all for free (or next to nothing).  I had a Clarins sample palette of lipstick colours that I loved (even though I used just one colour, Clarins 121) and it lasted me over six months.
eBay and Amazon are some good places to find samples to purchase for a lot less than paying for makeup full-size.  Otherwise, your local drugstore makeup counter (Shoppers Drug Mart, for example) and department stores may be happy to give you samples, all you need to do is ask, and sometimes purchase something small.
Shoppers Drug Mart is your Friend
I usually buy my makeup products at Shoppers Drug Mart on a "redeem your points" event.  Last time, I bought $225 worth of products for $25 thanks to Optimum points.  You can also use your points at their Murale stores, which host some higher end makeup brands, similar to the Sephora store.  I always got a little nervous about my Shoppers Optimum Card sitting in my wallet, full of points, so cashing in on a beauty splurge for myself reminded me of the reasons why I should use my points sooner rather than later.  For more tips on how to optimize your Shoppers Optimum Points, check out this guest post from Steve Zussino here.
Bargainmoosers, do you have any other tips on how to keep makeup on a budget?
(banner image credit: Thamiress)