L'Occitane Canada: Many Deals! Free Samples, Free Serum on $35+, $20 Gift Set Worth $45, Free Shipping on $49+

In an email blast from L'Occitane today, I spotted a few good deals and started messing round with the shopping cart and the coupon codes. I noticed that a few of the codes stacked together, and this can work out to give you some really excellent deals. Please read on for more info!
First of all, one of the good aspects of this deal is that for this week only, you can get free Canadian shipping on a $49 spend (expires 24th August - update on the 25th, still seems to work, possibly with code FREESHIP1). Usually, their free shipping threshold is $99.
Secondly, you can get a freebie when your order totals $35 or more. Simply use the coupon code SERUM for a free deluxe mini serum of your choice (expires 24th August 2014). When I was testing the coupon out, I was offered a range of samples. One of which was the Deluxe Mini Divine Extract worth $28! Great freebie with purchase!
Thirdly, you can get the Escape to Provence gift set for only $20 (it's worth $40) when you spend $45 or more and use the coupon code PROVENCE (expires 8th September 2014).
Fourthly, you'll get three free samples of their best-selling or new products with every order. You can choose these at the checkout when placing your order. Here are all the samples you can choose from.
Fifthly, you can order a FREE gift wrapping kit with any order. This free kit comes with gift boxes, ribbon and tissue paper.
And here's the good bit – all the above offers are stackable, you can use multiple coupon codes on your order. As long as your order is $45 or more, you can take advantage of all the above deals.
Here's a screenshot of my test cart with all the applicable goodies therein: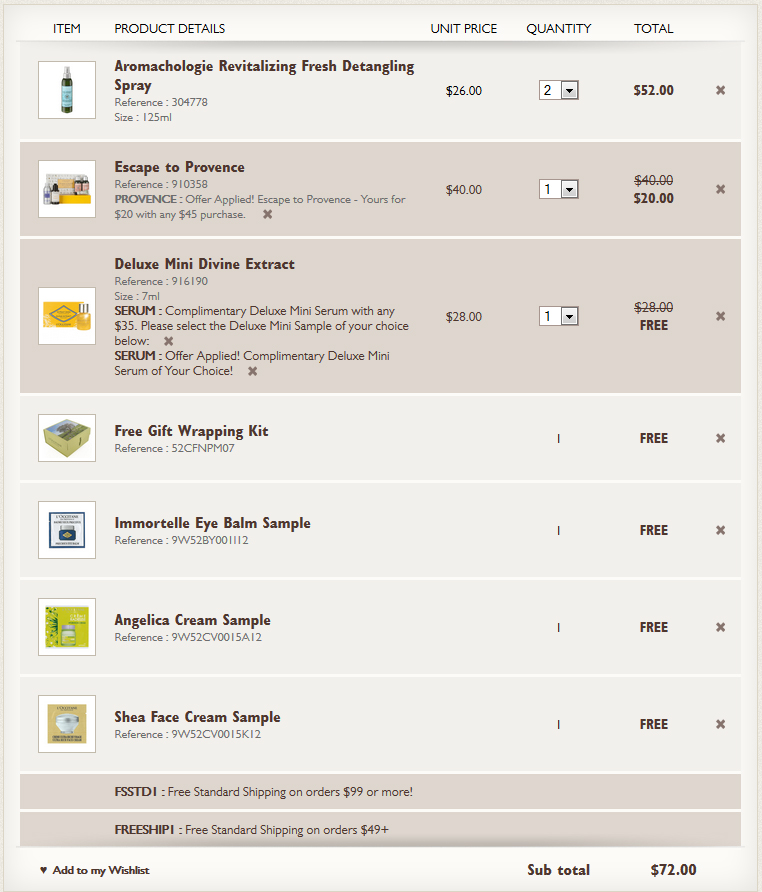 A few months backs, we had a L'Occitane contest here on site, in which we gave away a prize pack of L'Occitane products. Here are a few words from Bargainmooser Maureen who won the $250 prize pack:
I just want to tell you I love the L'Occitane products.   The scents are fantastic and I love the shower oil.   I'm addicted now and will definitely buy their products in the future.
That's a great review from someone who hadn't used L'Occitane in the past. Congrats Maureen!
Personally, I was introduced to L'Occitane last year. I was actually doing a family Secret Santa and had to find a Christmas present for my sister in law. I had seen a great stacking combo deal on some of the L'Occitane products just before Christmas, so I bought a big pile of them, knowing that many of the items would be going towards the Christmas gift. However, it was such a good deal and I got so many items, I actually kept some for myself as well. I'm now a regular user of the Shea Butter Foot Cream, it's priced from $12.
But you might have to laugh at me… it's sitting on my desk right now and I regularly use it as a hand cream. I've actually only just now read the packaging and realised it was foot cream! Anyway… it's a lovely cream, it moisturises well… what does it matter if I am putting it on my hands or on my feet!?
(Expiry: various)