Kiehls Canada Promo Code: Get Sample Of Vanilla & Cedarwood Lotion + $5 Gift Card w/ Purchases Of $55+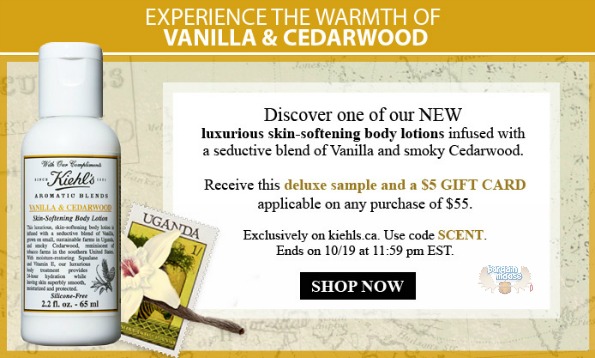 To receive a free deluxe sample of their Aromatic Blends, Vanilla & Cedarwood body lotion plus a $5 gift card that is applicable on any purchase of $55 or more, take a look at this Kiehl's Canada promo code for an online exclusive offer .  Offer will end at midnight on October 19th 2012.
Promo code details:
Code: SCENT
Discount: $5
Expiry: 19th October 2012
The vanilla and cedarwood skin-softening body lotion is a blend of vanilla, grown on small, sustainable farms in Uganda, and smoky cedarwood, reminiscent of tobacco farms in the southern United States.  The lotion provides 24-hour hydration while leaving your skin soft, moisturized and nourished and it's also silicone free.  Try your sample and see what you think.
There are many products you can choose from, but I can personally speak for this Rose Arctica, since I have tried it.  This is $63 for a 50g jar and worth every penny.  This cream really does improve the appearance of loss of firmness, wrinkles and lines, just as they say.  They call it the Resurrection Flower and it is, although don't expect a huge difference overnight, it does take some time.  I noticed a difference after a week and quite a difference after a month.
They have so many products, even for your pet.  This Cuddly-Coat Grooming Shampoo is just $20 and after experiencing some of their products, I just may try this for my little dog.  I've tried the typical dog shampoos on him, but he seems to have dry itchy skin afterwards, so maybe this will work for him.  It's a mild shampoo that is gentle on their coat, face and skin and is soap-free with gentle cleansing ingredients.  Can you imagine, your dog having a mild lavender scent.
We must not forget about the men's products, like this Close-Shavers shaving formula 31-0.  This is $26 and formulated for men with sensitive skin, ingrown hairs, razor burn, or just a tough beard.  With a blend of Spearmint, Eucalyptus, Cedarwood bark and Rosemary oils, this softens hair for creative shaving while protecting and moisturizing skin.
Shipping: Free on orders of $60 or more.
(Expiry: 19th October 2012)