How To Purchase Smashbox, Stila and PUR For Less @ Beauty Boutique by Shoppers Drug Mart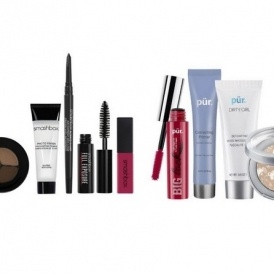 When a cosmetics line is offers a kit that includes several products in their line at a discount, there is already a built in savings. Below are 3 examples of such sets.
The next way to save even more money is to purchase these sets during a time when a promotion is going on. Right now Shoppers Drug Mart is offering 20X the Beauty Points (Shoppers Optimum Points) when you spend over $75 online and free shipping will be included.
This bonus equates to a total of 15,000 bonus Shoppers Optimum Points, which has a value of at least $15 if redeemed on a regular day, and more if redeemed on a bonus points day.
Just make sure when you shop online that you already have linked your Shoppers Optimum Card to your Beauty Boutique profile.
My suggestion would be to put some of those kits together until you reach $75 or more. You can also add filler items from the Beauty Boutique website, prices start from around $5.
Smashbox Try-It Kit Best Sellers is a great value at only $24. I love the Smashbox line, the eyeshadows are some of the best I have ever purchased. The kit includes the most popular products and shades that Smashbox sells, and this entire kit is perfect for traveling! This set includes:
1 Photo Finish Foundation Primer (deluxe sample)
1 Full Exposure Mascara (travel-size)
1 Photo Op Eye Shadow Trio in Filter (travel-size)
1 Always Sharp Waterproof Kohl Liner in Raven (full-size)
1 Be Legendary Lip Gloss in Disco Rose (deluxe sample)
1 full-size Smudge Stick Waterproof Eye Liner in Damsel (blackish brown)
1 full-size HUGE Extreme Lash Mascara
1 deluxe-size Stay All Day Liquid Lipstick in Dolce (nude cinnamon sheen)
1 deluxe-size Convertible colour Dual Lip & Cheek Cream in Camellia (peachy brown).
1 mini Hydrate & Balance Correcting Primer
1 mini Balancing Act Oil Control Powder
1 full size Big Look Lengthening Mascara
1 mini Dirty Girl Detoxifying Mudd Masque
Shipping will be free on orders over $50 and of course you will want to bring your order to over $75 to obtain the 20X Shoppers Optimum Points offer.
(Deal expiry: July 15, 2016)