Gift Sets From $23 @ Sephora Canada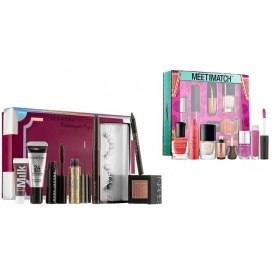 We all love Sephora, so why not give the perfect gift to a makeup enthusiast or someone just starting this year? Sephora Canada has their Sephora Favourites Gift Sets available from $23 - and some are valued at 60% more than their cost, too.
There are several Sephora gift sets to choose from, so have a browse and pick your poison. The first set to catch me eye (no pun intended) is the Sephora Favourites Extravagent Eyes Set which is $50 and valued at $161. It includes everything you need for that sultry smokey eye, or just an ordinary natural look too.
Love eyelashes and mascara? Get your hands on this New Sephora Favourites Lashstash Kit which is $54 and valued at $167. it would go well with the Sephora Favourites Meet Your Match kit which is $30 and worth $62.
For the man in your life, this Sephora Favourites Men's Skin Care Essentials Kit is perfect. It is valued at $32, but you can have it today for just $23.
Plus, you also get to select three free samples with your purchase, as always. Sephora Canada has free shipping on orders over $50.