EXCLUSIVE Early Access Friends & Family Sale @ Shu Uemura!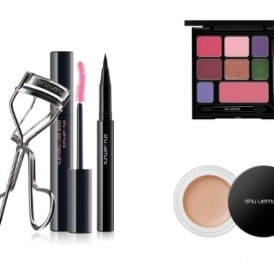 Starting tomorrow, Shu Uemura Canada is holding a great Friends & Family sale and we have scored you EXCLUSIVE early access to the sale TODAY! You can take 20% off orders of $50 and 25% off orders of $100 AND there's free shipping on every order! What a sweet deal. Just use the codes MOOSE20 or MOOSE25 at checkout.
For years, I'd been told about the magic that was the Shu Uemera Eyelash Curler. But it's just an eyelash curler, I would say back. Then I broke down and invested in one and realized that it's made by unicorns or something because it's AMAZING. I don't know what makes it different but I have short, thin eyelashes and it actually curls them and I swear they are longer! (Hint: heat it up a tiny bit with your hair dryer first for an even more dramatic, longer-lasting curl!) They're regularly $24 but you can pay as little as $18 on a $100 order. It's still just $19.20 on a $50 order.
I've also read great things about Shu Uemura's Pressed Eye Shadow and Glow On Blushes. They've got strong pigment so you only need a touch. The shadow is usually $19 but can be as low as $14.25; you could snag the blush for as little as $16.50.
Perhaps you can't spring for a $50+ order right now but it's still the perfect time to take advantage of completely free shipping. Get the eyelash curler—I promise you won't be sorry!
(Expires: 8th May 2016)