Everyone Has A Vice - Meet Your New Vice (Lipstick) By Urban Decay! Free Shipping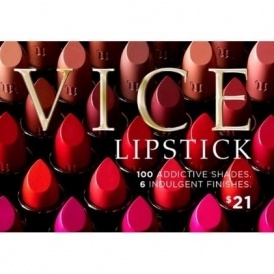 With 100 addictive shades and 6 indulgent finishes, you will quickly see how VICE Lipstick by Urban Decay, will literally become your next VICE. What a clever name! That's no surprise though, as back in 1996 when Urban Decay was founded, cleverly mixed shades of nail polish and lipstick with absolutely unheard of names in the industry brought forth an explosion of cosmetics wearers looking for alternative shades. Roach, Rust, Acid Rain and Smog were just a few of the shade names created.

This unique and exciting product, VICE lipstick, by Urban Decay, launched today, June 6th and cosmetics aficionados all across Canada have been enthusiastically waiting for this amazing lipstick! As a special offer for this unique debut, Urban Decay is offering free shipping with no min. purchase on this VICE Lipstick! (The usual cost of shipping starts at $7.95, or, is always free with purchases of over $50.)

While having been in the cosmetics industry for only two decades, (a relative newcomer compared to some other brands), Urban Decay is well known for being a high quality brand that was creatively designed to fulfill a void in the industry. Makeup wearers everywhere crave alternatives and Urban Decay is ready to deliver them - all 100 of them - in their line of VICE Lipstick. They retail for $21 each.

Urban Decay also carries their fabulous 24/7 lip liner in 50 gorgeous shades. They sell for $24, and I noticed when I placed one in my cart along with my VICE lipstick, shipping was still free since I ordered a lipstick, too!
Shipping is free!
(Deal expiry: June 13, 2016)