$25 Value In Shoppers Optimum Points W/$75 Min. Purchase @ beautyBOUTIQUE By Shoppers Drug Mart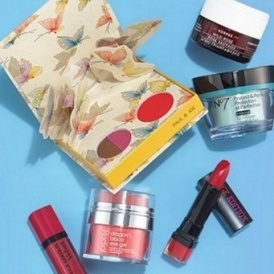 The on-line beautyBOUTIQUE by Shoppers Drug Mart has a promotion going on that ends today! If you spend $75 or higher, you will receive an additional 18,500 bonus Shoppers Optimum points on top of what you would normally receive. This equates to at least a $25 value to spend on another shopping trip, or even more than $25 if you choose to redeem those points during a bonus redemption day!
In order to take advantage of this promotion, you must link your Shoppers Optimum Card either during checkout or under your account. (Maximum 18,500 points per offer regardless of total dollar value of transaction.)
Purchasing $75 and receiving $25 back in points is as though your cosmetics were around 33% off!
I LOVE deals like this, and this will be the time to stock up on your regular cosmetic items that you use. Some lines of cosmetics don't often have sales or special promotional beauty bundles, and those are the types of products I would be looking at to purchase with this promotion.
You could also view the gift with purchases selection. Who doesn't love a free gift?

The best place you can head over to will be the sale section. They have some great sales on right now, it's worth checking out!
Shipping is free with a min. $75 purchase. If you are going to take advantage of all of these bonus optimum points, you will be going that route anyway. If not, and you spend under that threshhold, shipping is $8.
(Deal expiry: June 20, 2016)