Designer Fragrances From $5 @ FragranceBuy.ca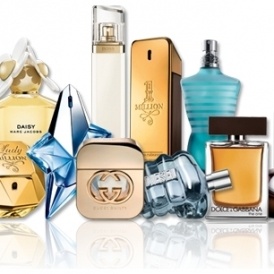 Shopping for some new perfume or cologne? FragranceBuy.ca is a great online outlet retailer that seems to have oodles of designer scents on sale from $5. I've ordered from them a couple times before with great success. Plus, you can use the code DADDYDAY at the check out to get free shipping on all orders over $25.
Ladies definitely have the most options at FragranceBuy.ca - and some pretty incredible discounts too! I have always liked Guess scents, so I was happy to stumble upon Guess Marciano For Women which is $17.77 down from $48. I own Ed Hardly Classic Pink Tall for Women. I like the smell - it is kind of sweet and sexy at the same time. Plus, the container looks great! It was $48 but now it is just $22.
I notice the Cuba for Men on my boyfriend's cologne shelf - and man does it smell good. It is on sale from $20 down to $7 which is pretty reasonable. Another one he would like would probably be Ferrari Black for Men which is $11 down from $35. How about some Alfred Sung? Get Alfred Sung Classic For Men on sale from $73 down to $15.
Don't forget to use the code DADDYDAY when you are checking out, so that you can get free shipping on your purchase over $25.01.
(Expiry: Unknown)