Clarisonic Canada: 20% Off Clarisonic Aria Cleansing Brush + Free Shipping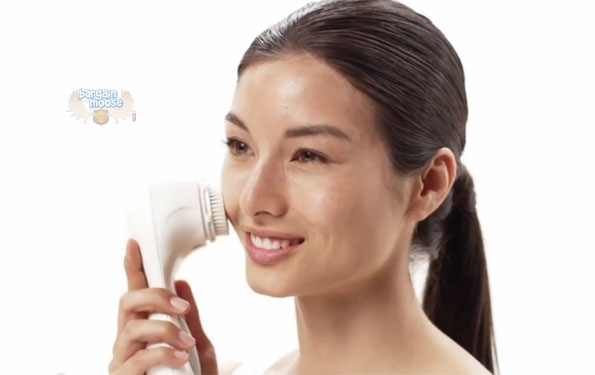 Take care of your skin and save money doing it with the Clarisonic Aria facial cleansing brush. Regularly priced at $225, you can use the Clarisonic coupon code: INDULGE to save 20% off and get it for just $180. Plus, shipping is absolutely free as well!
Just Clarisonic's skin concerns & benefits page is enough to convince me to get a cleansing brush as it features plenty of pictures of the difference in cleaning your face by hand and with the brush, but the main reason why I have been wanting one is because I have the worst skincare routine ever. The Aria is Clarisonic's latest sonic cleansing brush and compared to the others, it features more speeds, a better timer and also comes with USB-enabled universal voltage plink charger, which the other ones don't come with. It's also available in either white, pink or black.
So far, there is only one review on the Aria on Clarisonic's site, but on Amazon, I found the following five out five stars review:
My skin problems have not totally cleared up, but there is slow and steady improvement in the texture and look of my face. Having used it for less than 3 weeks, I still expect more of my skin issues to be resolved over time.
In fact, Krista recently blogged about this coupon in the weekly coupon codes roundup, but I thought this one was good enough to highlight in a post of its own because with the coupon code, the Aria, along with the other Clarisonic cleansing brushes are all cheaper than anywhere else. At Amazon, for instance, I found the Aria for $199.
Just like tooth brushes, it also recommended that the brush heads be replaced every month, but since these run at $30 for each and $46 for a twin pack, I suggest you also add the latter to your order. This way, you will also get to save 20% on it and get two brushes for just $36.80 ($18.40 each). There are different ones to choose from: normal, deep pore, sensitive or delicate.
The great part about the code above is that you can use it to save on anything site wide but keep in mind that the more you shop, the more you will save:
10% off orders between $50 and $99.99
15% off orders between $100 and $149.99
20% off orders over $149.99
For a cheaper alternative to the Aria, you could get the Mia cleansing brush for $145. With the code above, you could get it for $123.25 or $116 if you add another item, like a brush head, to push the order over $50.
In general, Clarisonic also only offers free shipping on orders totaling over $70.
(Expiry: 27th July 2014)