Cheaper Cosmetics @ Avon Canada!
There are some sweet offers on gorgeous products from Avon Canada right now! All the products I am listing below are heavily discounted, with most of them being half price.
You can buy all the products by clicking this link and searching on Avon Canada.
I'll list them in here and tell you a bit more about them. To find any of these products, use the search box at the bottom right of the Avon home page.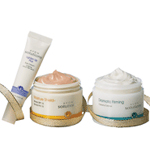 Solutions Triple Performance Pack (Search for 015-101) – was $52, now $12.99. This is a 3 piece set, containing eye cream, tinted moisturizer and firming cream. It's been reduced by 75% so it is a great bargain!
Jillian Dempsey Celestial Eyeshadow (Search for 059-759 for Moon Sand or 059-764 for Sunset Sky) – was $9.99, now $7.99. This is a brand new product from Avon.ca. It looks like a really nice eyeshadow, with the 2 swirly shades of color. I like the Sunset Sky.
Naturals Duo (Search for 013-336 for Vanilla, 013-383 for Cucumber Melon or 013-474 for Peach) – was $16, now $6.99. This is a liquid soap and hand gel combo package. It's been reduced by quite a lot, and looks like a nice little set!
Solutions Botanisource Comforting Cream (Search for 007-017) was $16, now $7.99! This lovely moisturizer is now half price! The product page is a bit short on details, so I don't know that much more about the offer, but for $7.99, you can't really go wrong. Have you used this item?
Anew Rejuvenate Duo (Search for 014-882) – was $67, now $35! This duo deal is nearly half price at Avon Canada. It contains both a morning moisturizer and an eye moisturizer cream. Seems quite expensive for the set, but the reduction is good. Have you ever used this product, do you know if it is any good?
Uplifting Mascara (Search for 187-412 for Brown or 187-428 for Black) – was $9.99, now $4.99. This mascara is half price! While I'm usually a Maybelline mascara fan, I'm not averse to trying new things. This looks quite interesting though, because it is the world's first bendable brush!! I wonder if that makes it easier to put on your mascara without poking yourself in the eye.
Anew Ultimate Duo (Search for 110-136) – was $78 now $39. Half price! This seems to be something similar to the rejuvenate duo mentioned above, but this product just consists of a day cream and a night cream. They say, "After just 4 weeks, 74% of women showed improvement in the look of age spots & fine wrinkles." Sounds good!
Don't forget your free gifts!
If you spend $55 or more, you can claim some nice free gifts worth $44, which I mentioned here in this previous Bargainmoose blog post.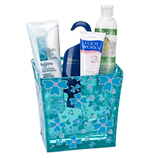 Don't forget coupon codes and cashback!
Firstly, you could save yourself a few dollars by making sure you use a coupon code on your order. For example, WELCOMECA gives you free shipping on a $25 spend, or use promo code SPRING35 for free shipping on a $35 spend. As shipping is normally $5.95, at least the coupon codes will save you that much!
There is also the possibility of getting an extra 5.2% free cashback from Dealguild.com.