Cartoon Toothpaste Dispenser & Holder $12 & Free Shipping @ Amazon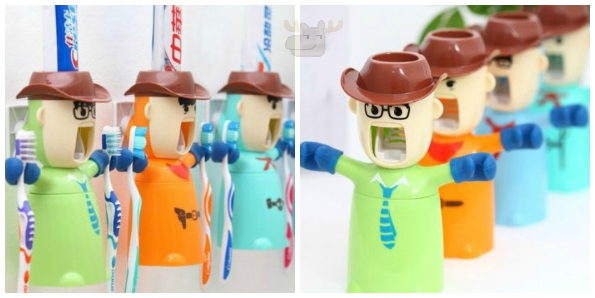 Want to help your child manage their toothbrush and toothpaste all by themselves? Then pick up a Cartoon Toothpaste Dispenser Toothbrush Holder (Creative Love Warriors Series) for just $11.98 with free shipping from the Amazon Marketplace.
This toothpaste dispenser and toothbrush holder is sold by MY LIFE who has nearly 650 ratings with around 4.2/5 stars overall. The little cartoon guy with a cowboy had actually does triple duty. He holds two toothbrushes, he dispenses toothpaste, and the bottom part of his body flips over to become a water glass.
There are others of these on Amazon but the next closest price was $17.99 and then they go up from there into the $20s. Therefore, these little Love Warrior dispensers for only $12 are a great price and they make a fun accessory for kids. They come in a random selection of four colours. I know three of the colours are green, orange, and blue but the fourth is not shown on the website.
These little warriors have little cowboy hands and different accessories drawn on their main body. One has a tie, another has a belt and holster, and another has a scarf around his neck with a belt and sword and skull symbol as he is a pirate!
We have talked about this sort of toy before when we blogged the Minion's dispenser for $13.27. The Minion's dispenser had both the dispense bit and the toothbrush holder but it did not have a built-in water cup for your child. This is a nice little extra feature that your Love Warrior dispenser provides.
What do you think of these little toothpaste dispensers? Have you ever used one before? If you place an order, then let us know which Love Warrior you end up with. I am hoping for a pirate!
(Expiry: unknown)