Cake Beauty: Free Gift With Purchase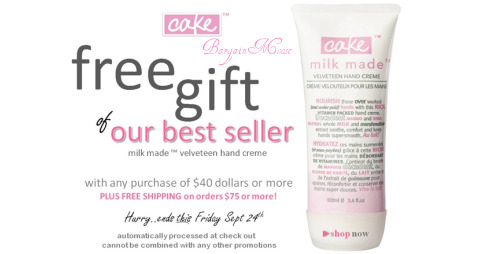 If you are in the market for a refresh on your bath and body products, Cake Beauty is offering a free gift with every $40 purchase. Your $40 purchase will earn you a free milk made velveteen hand creme, which is Cake Beaty's best selling product. This product is valued at $18 Can.
This promotion ends this Friday, the 24th of September, 2010.
I recently acquired the cake kiss lemon chiffon lip balm and it is WONDERFUL. The smell is like lemon merengue pie (heavenly!) and it feels great on the lips! I am extremely please with the product. That is my Cake Beauty success story.
Free shipping on orders of $75+