Burt's Bees: Spring into Beauty Grab Bag Only $25 ($75 Value)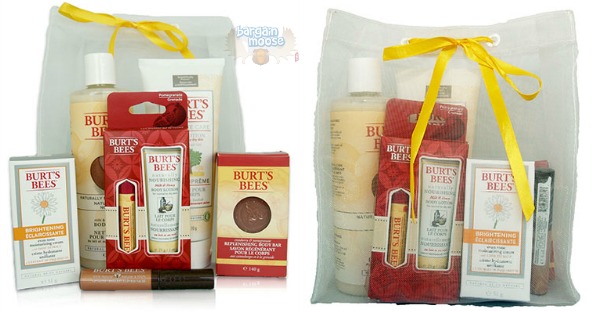 Burt's Bees Canada has the most darling little Spring into Beauty Grab Bag on sale from $75 down to $25. You receive $75 worth of famous Burt's Bees products that you are going to love.
This grab bag is loaded with amazing personal care products and cosmetics. In the grab bag you will find six full-sized products and a mini body lotion. The contents include:
Naturally Nourishing Milk & Shea Butter Body Wash – 350mL
Cranberry & Pomegranate Replenishing Body Bar – 140g
Ultimate Care Body Lotion – 170g
Brightening Even Skin Tone Moisturising Cream – 51g
Honey Bee Favourites – Pomegranate
Pomegranate Moisturizing Lip Balm – 4.25g
Naturally Nourishing Milk & Honey Body Lotion – 25g (mini)
Lip Gloss  Fall Foliage - 6mL
As you can see, this is a huge quantity of body care products for just $25. I think my favourites are the Naturally Nourishing Milk & Shea Butter body wash and the Ultimate Care Body Lotion. Milk and Shea butter is amazing for your skin so I bet this wash would leave my skin buttery soft and clean. This body butter retails for $9.99 but you can buy it on sale for $5.99 (separately) right now. One reviewer said:
Really great stuff here. Just like a lot of their other stuff, this is nice and moisturizing, yet light at the same time. It has a nice clean smell to it, that's not too overpowering at all. It also lathers really well considering that it's sulfate free, just make sure to use a loofa.
The Ultimate Care lotion features Baobab Oil, Pumpkin Seed Oil, and Green Tea Extract to pamper dry skin and leave you feeling nourished. Just a bottle of the lotion alone would cost you $14.99 separately.
Now, Burt's Bees offers free shipping on orders of $49 so I suggest buying two of these kits and giving one to your sister, boyfriend, mother or other relative next time an occasion arrives. I will mention that the Burt's Bees outlet has been restocked with other great deals as well. For example, this Energizing Peppermint Kit was $19.99 and is now $11.99. However, the Spring into Beauty Grab Bag is the best deal out of all the sale items so I wanted to feature it.
(Expiry: Unknown)