Body Shop: Ultimate Body Care Gift Set Was $128 | Now $45 (FS @ $50)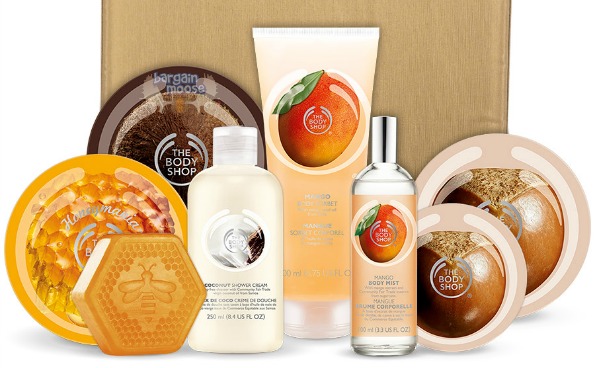 The Body Shop has a lot of promotions going on right now, but my favourite deal is this Ultimate Body Care Gift Set on sale from $128 down to $50. However, when you add the gift set to your cart it comes down to just $45, as you are spending over $30.
So, why is this my favourite deal when there are so many other deals at The Body Shop right now? Well, sometimes I just like to keep things simple. Building your own cart takes time and energy that, some days, I frankly do not possess. The idea of sticking one item into my cart and it covering all my needs is pretty sweet. In addition, these items totally match already so no need to dig around to find complementary scents.
Secondly, the popular Buy 3 Get 3 free sale is on at the Body Shop right now. I think that is a fabulous sale, but it is equivalent to 50% off all those items. The Ultimate Body Care Gift Set is actually 65% off, so you are saving more off the kit.
Kits also make amazing gifts. They come in a pretty box and are ready for gift giving without having to add in too much extra effort, wrapping paper, and more. Valentine's Day is approaching in just two weeks - this might just be the perfect gift for your loved one.
The Ultimate Body Care Gift Set consists of eight pieces to keep your body all happy and moisturized. Included in the set are:
Mango Body Sorbet 6.76 oz
Mango Body Mist 3.38 oz
Coconut Body Butter 6.76 oz
Coconut Shower Cream 8.45 oz
Honeymania Body Butter 6.76 oz
Honeymania Soap 100g
Shea Body Butter 6.76 oz
Shea Body Scrub 6.76 oz
I have tried the shea butter products from the Body Shop - they are marvellously thick and moisturizing. The mango is fantastic for anyone who loves a fruity scent and it can really brighten up your winter. Coconut is like the tropics - the scent pairs very well with the mango. I am most excited about Honeymania as I LOVE honey and I have never tried that scent from The Body Shop before.
With eight products in the kit at only $45, you are paying approximately $5.62 per product. When products like the Mango Body Sorbet retail for $15 alone, you know this is going to be a good deal.
All orders of $50 or more qualify for free shipping. Add on a $5 item like these Frosted Cranberry Bath Sprinkles, currently 50% off, to receive free shipping.
(Expiry: Unknown)