7 A.M Enfant Doudoune Baby Bunting Now Just $50 (Were $100) @ Well.ca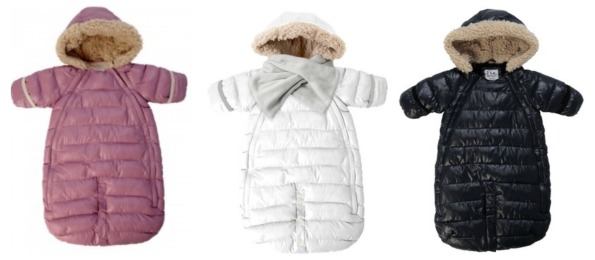 *BUMP! These are now just $50*
How cute are these bunting suits? Not to mention, how handy these would be during the winter with a small baby. They are currently on sale for only $50, down from $100, at Well.ca. These are available in five colors : Black & Grey, Black, Lilac, White and Neon Lime.
These little suits are packed full of features. The bottom unzips to easily change your baby's diaper. That feature alone is such a time saver, compared to a full snowsuit. What's more, is that this bunting suit can in fact become a snowsuit, by snapping together the two rows of buttons, in the middle of the suit, to form two legs instead.
When I saw these bunting suits pictured above, I immediately thought how useful these would've been when my son was born. A full snow suit is clearly uncomfortable for a baby, and it's such a hassle to put on. I didn't have one of these bunting suits but I sure wish I did.
The micro-fleece lining inside the suit is also anti-pilling and the shell is water-repellent. The faux-fur hood adds to the look, but can also be a warm and comfortable option instead of a bulky hat.
Shipping is free with the purchase of one of these one-piece baby buntings!
(Expiry: Unknown)