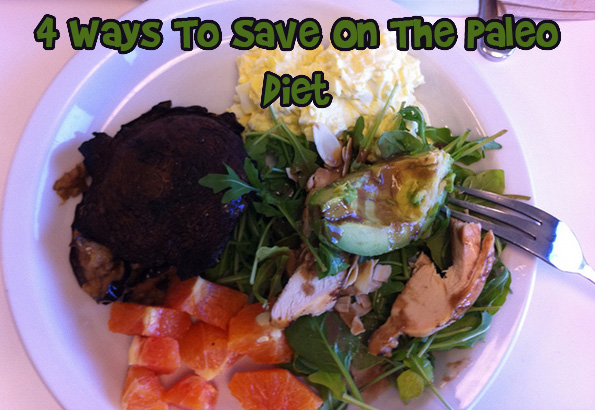 Whether you have heard of this diet or not, the Paleo Diet is fast becoming popular. The Paleolithic diet, also known as the "caveman diet", is based on the premise that we are naturally genetically engineered to eat foods such as meats, seeds, and vegetables, and not grain based products, refined sugars, processed oils, processed foods and *gasp* even dairy.  Instead of canola oils or other processed oils, coconut oil is often used in the Paleo diet.
I personally am not on a Paleo diet but have certainly heard a lot about it.  I do keep my carbohydrate intake on the low side with the exception of oatmeal in the morning and fruits.
Since the Paleo diet involves eating a lot of protein, it can be expensive to keep up with.  Here are four ways to save money when eating on the Paleo diet. Before you know it, you'll feel better and your wallet will too.
Buy in Bulk
Buy your foods in bulk, especially meats. Bulk meaning a dozen chicken breasts.  Separate the chicken breasts into zip lock bags and then freeze the meat if you're not planning to use it that day. Buying a chest freezer is a great way to ensure that you can buy meat on the cheap.
For the coconut oil staple, buy it in bulk as well.  Costco carries coconut oil for a reasonable price.  Alternatively, you can also buy coconut oil from Amazon.com and the like.
Bulk can also mean the entire chicken.  Use up the different parts of the chicken.  Use the parts of the chicken that you wouldn't normally eat in a meat as part of a chicken soup or chicken stew.  Yes, that means even bones.
Get Local and Buy Direct
The best way to save money of course is to skip the middle man.  Go local. Although it might be more cumbersome to frequent a butcher shop rather than a one-stop-shop grocery store, you will get to know where your food comes from and over time as you develop a relationship with the butcher, you might get some special deals or discounts if you ask nicely.
Another alternative is to sign up for the CSA program.  CSA's, or Community Shared Agriculture is a essentially a mutually beneficial relationship for the farmer and the agriculture consumer (e.g. you).  Essentially, community shared agriculture works by the consumer buying a preset amount of agriculture before the season starts.  The farmer gets commitment knowing that they have someone to purchase the food, and the buyer gets to know where the food comes from.  The buyer shares the same risks as the farmer, so if there's a drought or a flood to the crops, the buyer will suffer. Basically, the buyer buys shares in the farmer's product of farming.  As a consumer or eater, you can also volunteer on the farm.  Here is the CSA farm directory for Ontario.
Grow Your Own
Of course, you could always grow your own vegetables.  For example, green onion grows by itself if you stick it in some water.  If vegetables aren't your thing to grow, and you want to start off with something easier, here's an article from Bargainmoose on growing your own herbs.  Herbs are one of the easiest things to grow (especially basil) and the cost savings are considerable. Since the cost of fresh basil at the local supermarket can be about $2 to $4 per handful of basil, and a basil plant costs $4, this is a no-brainer.
Create a Meal Plan or Freeze your Meals
Like most things in life, it's easier when you plan.  Meal planning, especially if you are busy with work, school, children, life and everything else, is essential for a well run household.  When you meal plan your paleo diet meals, it helps organize the new diet so that there's an increased likelihood that the diet will stick.
Batch cooking is one of my favourite ways to ensure that I don't fall back to eating processed foods when I don't have the time to cook. The only thing to remember is to set it out from the freezer the night before so that there's some time to defrost.
Bargainmoosers, have you tried the Paleo diet?
(banner image credit: sbshine)