ZoneAlarm Canada: Save 50%+ Off Various Security Programs & Free PC Tune-Up Bundle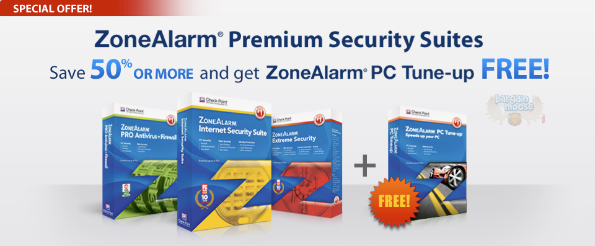 Get the knowledge and experience of the ZoneAlarm guys at a great discount.
I say ZoneAlarm has been around forever, but according to the book of knowledge, Wikipedia, it's been about 13 years. I thought it was longer than that, but I guess not. Regardless, 13 years in technology is like 50 years in the real world. It's kind of surreal, actually, to look back on how much stuff has happened since 2000.
One thing that has happened is that it's gotten more dangerous on the internet. Now, I'm not an alarmist, so I don't want to freak you out about being on the internet. The internet is awesome. The problem is that there are a lot of people who don't understand it. Luckily for those people, companies like ZoneAlarm exist to help protect you. ZoneAlarm is best known as a firewall maker, but they have a lot more to offer.
ZoneAlarm PRO Antivirus + Firewall plus PC Tune-up - Was $69.95 - Save $50 - Now $19.95
ZoneAlarm Internet Security Suite plus PC Tune-up - Was $79.95 - Save $45 - Now $34.95
ZoneAlarm Extreme Security plus PC Tune-up - Was $89.95 - Save $50 - Now $39.95
The prices above are not including the PC Tune-up, which you get for free. It retails for $19.95, so you can add another $19.95 on to the savings above!
This is for a digital download of the software, so there is no shipping.
(Expires: Unknown)