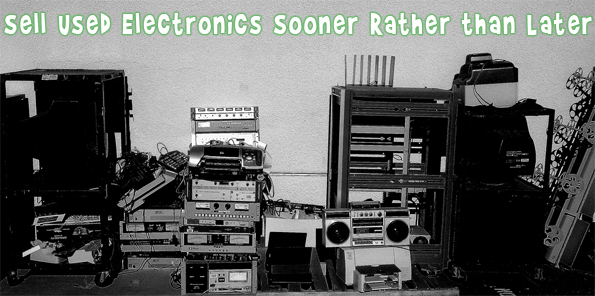 We live in a rapidly-changing, technology driven society right now; even in a few years, there have been 3 iPad updates, 4 or more iPhone updates including 3G, 3GS, 4, 4S (might have lost count on that one), and multiple iTouch or iPod nanos.
Smart phones is another area where there is drastic change on an annual basis and most people do want the latest and greatest and the fastest and smartest.  Samsung Galaxies have replaced Blackberry Torches and even previous iPhone fanatics.
Everyone wants the latest and greatest but what do you do with your previous treasure?
Many people decide to buy their new toy first and plan to sell their old toy to recoup some of the costs from the latest purchase, but this might not be a good idea for a few reasons.
The longer you leave your old electronic toy lying around, the more its value depreciates.
Think of it like a hot potato that you want to ged rid of as soon as possible.  Unlike many other things that usually appreciate over time (including love, antiques, and your stamp or coin collection), electronics depreciate rapidly.  People, just like you, want the latest and greatest.
Many people are willing to settle for the almost latest and greatest (for example, the iPhone 4) but not for the older electronic gadgets (try and sell your iPhone 3G and it will likely be more difficult than selling the iPhone 4).
Therefore it makes sense to sell your electronic gadget, be it a television, computer, laptop, cell phone, or tablet, sooner rather than later.
Getting rid of your electronic gadget isn't that difficult, especially if you're Craigslist or Kijiji savvy and enjoy selling your wares via those mediums.
1. Start Local: Craiglist or Kijiji
Some tips on ensuring a successful transaction including making sure you take a good picture, give a good description, and explain whether you're firm or not with your pricing and the seriousness of your intent to sell.  Many people will try to lowball you, or even worse, may flake out on you when you set up a date, time, and place to sell your goods.
Updating your ad every few days (but not too often that it annoys people) will keep it fresh for people looking to buy your electronic product.
Also make sure that your pricing is competitive to ensure interest from potential buyers.
2. Ask about Trade In Options at your Local Electronics Store
Many big box companies may offer Trade In options at your local electronics store.  While this may not be the best deal, it might be better than nothing!  For example, earlier this year, Best Buy was offering a  trade in program where you gave them your old camcorder and they offered you a $50 discount on a new GoPro camcorder, for example. Unfortunately this was not an ongoing event and the skeptic in me thinks that they probably elevated their prices during this two week event to the point that you're not really saving that much money anyway.
In the United States, Best Buy had a "buy back" program as well where you could get 50% of the retail value of your gadget if you brought it back to sell within 6 months, but it appears that  this has not proved lucrative or worthwhile for the company since it's no longer an option.
3. Sell Online
There are many websites where you can sell your product via mail and receive payment for it.  Here's a list of some such websites though most are based in the United States:
BuyMyTronics.com (they pay you via Paypal after they inspect your electronics to make sure it's reusable)
BuyBackWorld.com (there's a referral program for this that allows you to cash in on getting your friends to sign up)
If you can't sell it… make sure you dispose of it properly
If all else fails and you are unable to sell your electronic goods, make sure it is recycled safely.  Many big box electronic stores accept up to 2 electronics per visit to recycle.  This is paid in part by the electronic recycling levy that we all pay when we first purchase the gadget.
If you live in a rural location, recycling companies such as Encorp (in the Western Provinces) host electronic Drop Off events where you can safely recycle your electronics instead of throwing it out in the garbage.