White Coaster 3 Piece Dining Set For Only $49.97 & Free Shipping @ FutureShop /BestBuy Canada (Quick)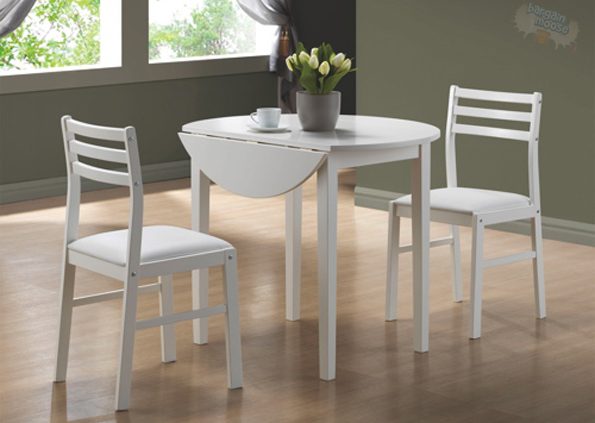 There is limited stock of this deal, so it might not last for long… the White Coaster 3-Piece Dining Set has recently been reduced and just now, you can pick it up for only $49.97 with free shipping to your home!
I've put both links above as I am not sure how their stock works… if there's a limited number or if one store sells out, and the other does not. It's up to you to choose which you buy it from, it's the same price and the same deal for the same item.
What you get:
White 3-piece table set
2 armless ladder back dining chairs
This Coaster dining set would be absolutely ideal if you have a small kitchen or dining area, and only need a couple of chairs. It's a fantastic price!
If you did want to go a little larger, there's another deal on the Cappuccino coloured Coaster 5-Piece Dining Set from Best Buy – it's only $69.97. So, if you've got a little more space or need a few extra chairs, consider spending the extra twenty bucks and up-sizing.
Obviously, at these price points, the Coaster dining sets are probably not going to be ultra-durable and long-lasting, but I imagine that you should get your money's worth out of their usage.
(Expiry unknown)