Walmart Canada: 32" Craig LED Flat Screen TV - $208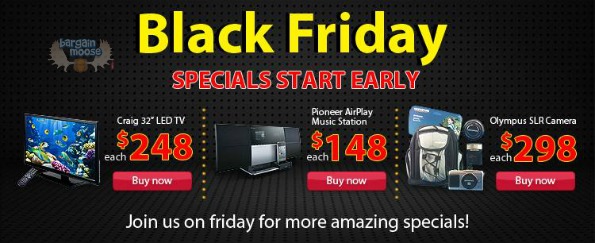 If your TV has a back-end on it that is larger than yours, you need a new TV. However, many people don't have the money to go buy a spanking new, top of the line, massive TV. Give thanks for Walmart: get a 32" Craig LED Flat Screen TV for only $208.
This is one of Walmart's pre-Black Friday deals. They are going to have a ton more deals tomorrow, so be sure to check back!
Note: Now you might notice that the $208 is cheaper than what it says on the banner, $248. Yup... Walmart made a mistake. Try to pick up the system before Walmart changes the price!
Features:
Wide Screen Flat Panel
Ultra Slim Cabinet 3 inches deep
3.5 mm Headphone Jack
ATSC/NTSC System Digital Tuner
Built-in Stereo Speakers [ 2 x 5W RMS ]
32 inch HD LED Color TV 720p
Auto Mute
Auto tune
Progressive Scan
AV in Jack
3.5MM Headphone Jack
Also included in the early bird Black Friday sales:
Great little offers. Be sure to check the forum and the blog for more Walmart deals tomorrow!
Expiry: Unknown