WagJag Canada: Portable USB Phone Charger Just $19 ($50 Value)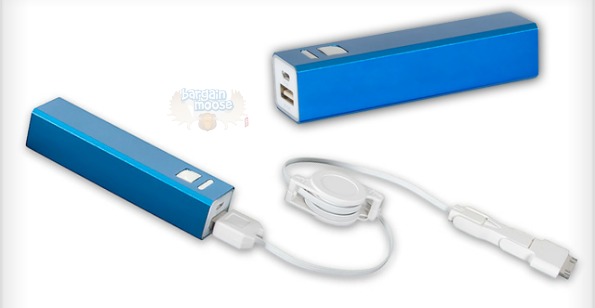 I always love it when I find a deal to write about that I really need.  WagJag has a deal exactly like this.  Right now, you can get a portable USB phone charger for 62% off the regular price.
This portable USB phone charger was $50 and is now just $19.  That is 62% off the regular price, which is a pretty incredible deal!
I can't tell you how many times I have had a long day out and about and my phone was on it's last little bar before dying.  It has happened to me at the gym, at the grocery store and while driving around.  I have two kids and my cell phone is a life line in case of emergencies, so having it run out of battery life is just not an option for me.  A portable device like this is exactly what I need to keep in my purse so this never happens again.
This phone charger charges a variety of brands and types of phone and a few other items as well.  You will get three attachments for a digital camera, iPod, iPad 2, iPhone 4/4S, BlackBerry and Android devices.
To charge it, just use your computer to charge it up while you're at home, then take it with you wherever you go.  It is as simple as that!
You will be able to purchase up to five devices and it will be delivered within 4-5 weeks of this deal closing.
The cost of shipping is $6.50.
(Expiry: 2 April 2014)