WagJag Canada: 73% Off Flat USB Cords for iPhone 4/4S or Samsung S3/S4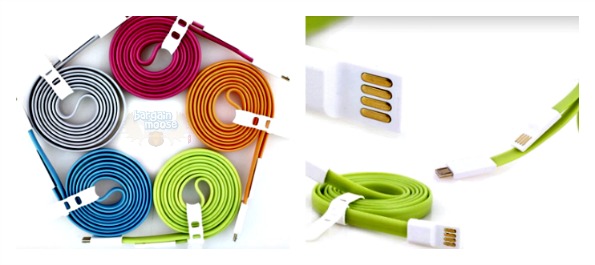 There is another fantastic accessory deal right now at WagJag Canada that I am sure many of you will want to take advantage of.  Save up to 73% on flat USB cords for your iPhone 4/4S or Samsung S3/S4.
There are two different options for this deal to purchase:
$9 for 1 flat USB cable (a $30 value)
$16 for 2 flat USB cables (a $60 value)
The second deal is 73% off the regular cost so it is pretty incredible. I actually go through a lot of these because either I lose the cords, or I end up wanting to charge my phone in any room of the house so I will be going for the two USB cable deal.
The cables will work for any of the cell phones mentioned above. You will be able to choose from 6 colours and they are durable and reliable and very easy to store because they are flat. Choose from pink, white, blue, black, green and purple. They are compatible with both Mac and PC systems.  The 4ft. long USB connector cord allows you to sync or charge your iPhone 4/4S or Samsung Galaxy S3 or S4 devices to your computer.
Once you place your order, it will take just 2-4 weeks for the delivery (after the closing date below).  Something like this is a great little gift idea because everyone nowadays have a cell phone.  I actually know a few people that have two of them!
The cost of shipping is a very inexpensive $2.50.
(Expiry: 25th April 2014)