WagJag Canada: $25 For A Hands-Free Bluetooth Car Kit ($79 Value)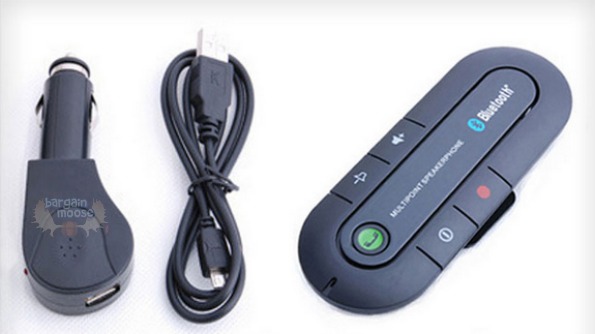 If you have a cell phone with Bluetooth capabilities (which, let's face it, practically everyone does) then you may be interested in this offer. Get a hands free Bluetooth car kit for just $25.
This hands free Bluetooth kit is valued at $79, so you will be saving 68% with this deal through Wagjag.  It will come with everything you will need for your cell phone. It will include the smart phone charger, the speakers, the cable connector and the manual, and it is easy to install. It will actually clip right to your car's visor!
This hands free Bluetooth kit will have up to 16 hours of talk time and 1,000 hours of standby time. It will connect up to two different phones. This is perfect for the family that shares a vehicle. When we were looking into a new vehicle, we wanted to get one with built in Bluetooth capabilities. We ended up not getting it, because it would have cost us way too much to do it.  It just wasn't worth it.  Spending just $25 though, and getting practically the same results (minus the built in part) is much more reasonable.
An electronic gadget like this is not only handy and would make a great gift for anyone that spends a bit of time in their car, but to me it is also a safety feature. There are so many Canadians killed by distracted drivers looking at or talking on their cell phones when they are supposed to have both hands on the wheel.  A system like this will free your hands so that you can talk safely when you need to.
As for the cost of shipping, it will be just $7.
(Expiry: 7th May 2014)