Today Only! Simple Sleep Memory Foam Pillow Was $80 | Now $30 & Free Shipping @ Best Buy Canada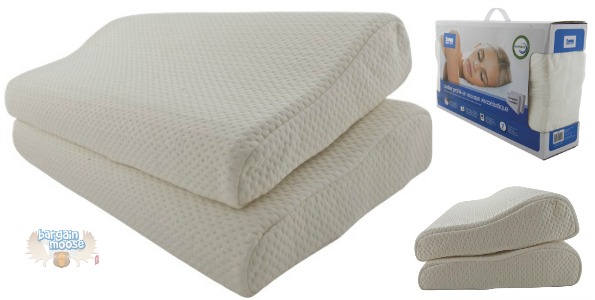 Have a better night's sleep with the Simple Sleep Memory Foam Contoured Pillow. This two-pack pillow set was $79.99 but is now only $29.99. These pillows also meet the $25 minimum to qualify for completely free shipping.
This is so appropriate that I write about amazing comfortable pillows first thing this morning. Last night I tossed and turned all night. I am not sure if it was because it was too warm in the room, or because my stack of pillows kept falling on the floor, but for some reason I was awake half of the night. There is no shortage of pillows on my bed, but my husband squeezes them so tight they end up looking like a tube of toothpaste that is half empty.
We are often buying new pillows in our house. I usually replace two pillows on our bed at the same time, as it somehow seems unfair that only one of us between my spouse and I receive a new pillow. This deal today already is a two pack, so it is fair if you have a significant other also. The foam on this pillow is curved to fit your head and neck, offering you extra support.  This product is described as a medium firm pillow though buyers at both Best Buy Canada and Amazon Canada are reporting it leans more towards the firm side. These pillows also come with a washable cover for cleaning. which keeps your pillow cleaner and allows it to last longer than with just a pillowcase alone.
Pick this same pillow set up at Amazon Canada and for one pillow you will pay $36.56 or $73.12 for two like this pack. Walmart Canada had a two pack of these pillows for $59, but they are now out of stock. Sears Canada has a single contoured pillow that is memory foam made by Bodyform. You could pick up the Bodyform pillow for $79.99 for one pillow or $159.98 for two.
Over at Best Buy, there are only two reviews and they are not very detailed. You may want to check out the 85 reviews at Amazon Canada to get your best picture of this product. I see multiple people mention that if you have neck pain, this is a particularly great purchase. Several people also mentioned that this pillow has a chemical odour out of the box, but that it goes away when you wash the pillow case.
I would say this pillow set is a solid buy. Memory foam pillows often cost much more. For this price tag, you are generally lucky if you can score one pillow. Grab this set of two now before it is gone.
(Expiry: 27th April 2015)