Today Only! Cookoo Bluetooth Watch Was $129.99 | Now $65 & Free Shipping @ Chapters Indigo Canada (EXPIRED)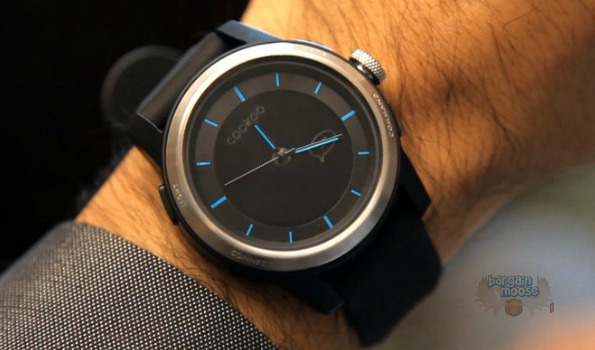 The Cookoo Bluetooth watch is not your average timepiece, it is a smartwatch to help you filter your phone alerts and messages. This watch was $129.99 but is now only $65. Free shipping is included with this order over as it is over $25 from Chapters.
I had a job several years ago where it was extremely impolite to pull out your phone in certain places in the building. My supervisor would lament that everyone was using their phone to check the time and would sneak looks at their social media. In the past few years I have become even more connected to my phone. I try to disconnect when I am with my family and friends, but when I am expecting an important message it can be tough to avoid the siren call of Facebook.
Have you tried playing the cell phone game with friends? You stack your cell phones in the centre of the table, and the first person to check their phone during dinner picks up the entire tab. You could sneakily win the game and stay connected with only the important updates with this cool Bluetooth enabled watch. Your friends would probably notice you checking your watch, but it would help to filter your alerts when spending time with people you care about. This would also help if you have a tendency to miss alerts on your phone in loud places.
You can customize the alerts, and have the watch alert you when you have an e-mail, phone call, text message, Facebook alert, Twitter mentions or any combination you choose. I like that I could use it to limit my Facebook use when I am spending time with my daughter, but still would get important notifications and texts. This watch will ring, buzz or show only an icon to alert you.
This watch also functions as a remote control for pictures, music volume controls and can help you find your phone. I cannot even tell you how many hundreds of times I have been on the hunt for my phone in the house.
You can pick your colour between black, white, blue, pink and silver. This watch is compatible with several iPhone4 & 5, iPad, iTouch and Android 4.2/4.3 devices.
You could pick up this same smart Bluetooth watch at Newegg.ca for $149.99. Bestbuy.ca has this Bluetooth watch for $159.99. Staples.ca also has this watch for $159.99. Pick this up today with a much bigger discount instead.
Reviews are hard to find on this watch. You will have to use your own best judgement if this device is right for you.
Bargainmoosers, how would you use Bluetooth watch to filter your notifications from e-mail and social media?
(Expiry: 18th March 2015)