TigerDirect Canada: Seiki 42" Class LED HDTV - Now $399.97 (Was $499.97)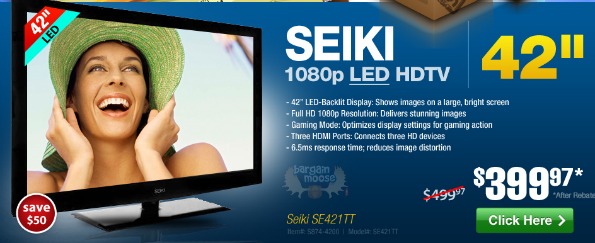 If you are on a budget and really want a new flat screen TV, check out this deal at TigerDirect Canada. Get a Seiki 42" Class LED HDTV for only $399.97 after discount and mail-in rebate.
You will pay $449.97 up front, but after you send in the $50 mail-in rebate the TV will have just cost you $399.97 + tax. You will also have to pay for shipping. I priced shipping out to the wilds of Alberta and it was just under $39 for me. That isn't bad for a TV that weighs around 45 lbs. However, surely it will be cheaper to the East.
There are a couple reviews of this product so far:
This TV is perfect. I love it. The price is good. The shape is good, thin and sharp. The picture is good, the sound is good. With this price, that's unbeatable. I watch it today for couple hours. No problem.
Great product. As always I'm very satisfied with the products and service from here. Awesome picture quality after a few adjustments in the picture interface.
They both give the TV a 5/5 star rating.
Expiry: 12th, July 2012