Tiger Direct Canada: Seagate 2TB External Drive $79.97 ( Was $119.97)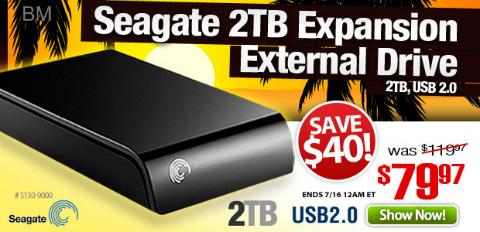 This Seagate 2TB external hard drive is perfect for those who need a little extra memory... or a lot. Have a large music collection? Lots of pictures? This 2TB Seagate hard drive can handle it. On sale for $79.97 (+ shipping) you are saving $40 of it's original price of $199.97.
Shipping to where I live was only $7.20, pretty reasonable. It is great to see 2TB hard drives from reputable companies under $100. Currently it has a 4.3 out of 5 star rating with 128 reviews on Tiger Direct. Here is what one reviewer said:
already formatted. put a terrabyte on there in no time. Couldnt ask for better.
A note: if you are going to pair this up with a MAC it will need to be re-formatted, which is a breeze. I jsut did it for a Seagate HD and it took like a couple of minutes if that.
Deal expires the 16th, July 2011 (at 12 AM ET).