The Source: Daily Deal - 16 PC Emergency Auto Kit $18.49 (orig. $39.99)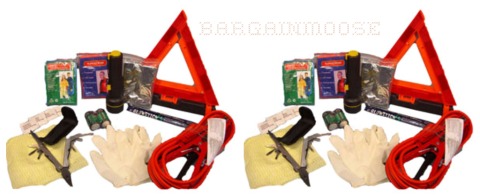 The Source has a great daily deal on today, and it is something everyone should have in their vehicle: an auto emergency kit. Canada has some interesting weather, beautiful one minute... a blizzard the next. The best thing you can do is be prepared. Pair this kit with a first-aid kit and you ready to weather anything. Today only $18.49, less than 1/2 the original price of $39.99.
This kit includes:
Heavy Duty 8 Foot Booster Cable
Triangle Reflector
Safety Vest
DD Flashlight
2D Batteries
Emergency Poncho
All Purpose Tool
Glow Stick
Solar Blanket
4 Antiseptic Wipes
Wipe cloth
2 Vinyl Gloves
Plastic Re-Sealable Carry Bag
This is The Source's daily deal, so only available today, the 17th of January, 2011!