The Source: Centrios Wireless Indoor/Outdoor Speakers Save $150 (now $99.99)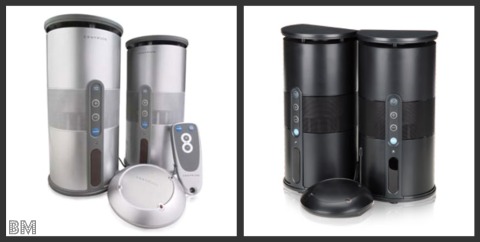 The Source is offering a pair of Centrios Wireless Indoor/Outdoor Speakers for $99.99, original price $249.99. They are 'weatherproof' so great for outdoors and throw enough sound to enjoy outside. They are also great for in home use, stick one in your living room and one in the bedroom, or wherever else you would like music. They can operate up to 45 meters or 150 feet away from the transmitter.
Evidently these will transmit sound from your TV, stereo or just about any device that emits sound.
There is a difference between the grey and the black: the black specifically says they are 900MHz while the grey does not specify.
I LOVE wireless speakers. I had a set a couple years ago that was fab. I would put one of the speakers in the bathroom so that I could have wonderful music while I had my nice bubble baths. Was the best! If I didn't have an iHome system I would be purchasing these in a heartbeat... I miss having sound all over the house without having to crank up my system.