The Source Canada: Kindle Fire 7" HD Tablet 16GB Only $129.99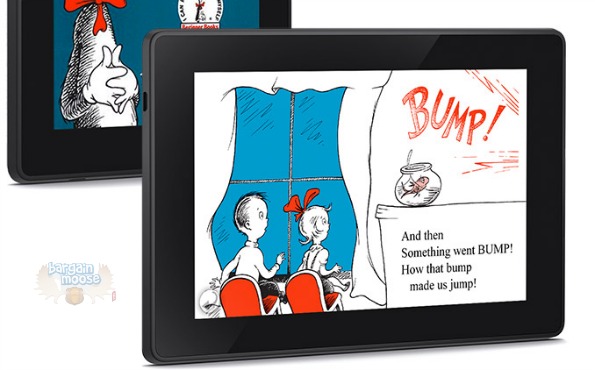 The Source Canada has a sweet deal on a 7" HD Kindle Fire Tablet of the 16GB size. This open box tablet is on sale for $129.99, originally $214.99.
I price compared with Amazon.ca. They no longer have the 16GB 7" HD Fire, but the 8GB tablet costs $149. I checked it out on Amazon.com and despite the confusion over with special offers and without special offers, this tablet retails for $184 USD = $200 CAN before shipping/duty. This means that The Source Canada is offering a fantastic deal on the Fire tablet.
This tablet is open box. That means it is a display model that comes with a full manufacturer's warranty because they guarantee the quality of display models the same as closed box models. If anything should go wrong, then you can invoke the warranty just like you would with a brand new, never been used model.
The Fire tablet comes with 16GB built in memory, a 1280x800 HD display, dual-band dual-antenna Wi-Fi, 1.5GHz dual-core processor, and a Micro HDMI port to hook your tablet up to a larger display.
You will receive approximately ten hours of life on a single battery charge with mixed use. If you are watching solid HD videos, then expect the battery life to be much lower. The device weighs in at 345 grams.
I have been reading many reviews of this tablet. Many people in Canada are disappointed because there is no way to integrate Kindle books or Audible (both Amazon apps) onto the Canadian Amazon Fire Tablet. Trust me; there is a lot of ranting about this. For those who bought this tablet specifically for the pleasure of those two apps, they are sorely disappointed. Otherwise, people have said that this tablet is quite good and a very good buy for the price. This commenter on Amazon is a perfect example:
I would have given 5 stars for price and quality from that short experience with it but after much frustration discovered that I can not have all the benefits promised when you purchase audio books from Audible and Kindle books.
For those whose do not care about those two apps, they generally have good things to say about the tablet:
User friendly! Great bang for your buck entry level tablet. Reading is slick, Facebook and games work great.
Overall, I think this is a great buy at this price. The Source offers free shipping on orders of $30 or more.
(Expiry: 20th August 2014)