The Source Canada: Friends & Family Sale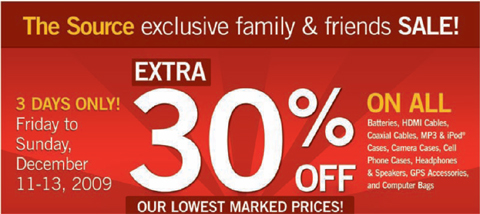 There's a friends and family event happening right now at The Source Canada! You can get up to 30% discount on selected items…
The deal is only available between the 11th and 13th of December 2009, and you have to print the above invitation and take it with you.
A 15% discount will apply to all bluetooth devices, telephones, toys, clocks, watches, mini stereo systems, DVDs, videos, gaming accessories, security equipment and calculators.
A 30% discount will apply to all batteries, HDMI cables, coaxial cables, mp3 & ipod cases, camera cases, cell phone cases, headphones, speakers, gps accessories and computer bags.
While it's mostly a sale on accessories, the advert states that all their TVs, PCs, GPSs, and cameras are also on sale, in-store, so it might be worth popping in.