The Source Canada: Canon Vixia HF R400 Camcorder Bundle | Was $330 Now $200 (Expired)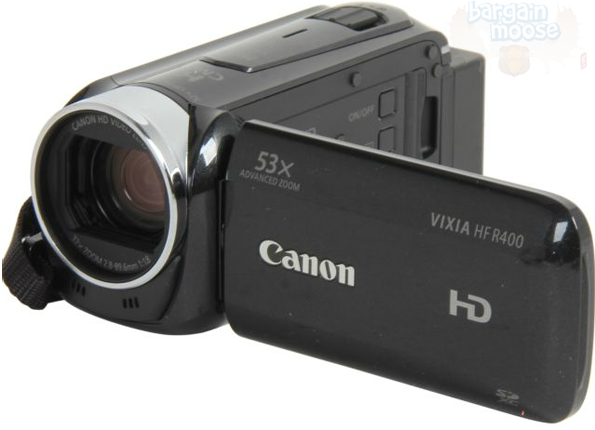 There are many occasions during your life where you'll want to use a video camera. Sure, you can use your smartphone's video camera, but chances are that the video and audio quality just wouldn't be good enough for certain events, such as weddings, celebrations, and other significant moments that you want to capture on video. Thankfully, The Source has a great deal on the Canon Vixia HF R400 - an HD video camera that's high in quality and low in cost! For a limited time, you can get this high definition video camera for just $199.96 - the regular price for this bundle is $329.99! Plus, this item also qualifies for free shipping - whoohoo!
The Canon Vixia HF R400 camcorder bundle comes with a 4GB SD card, an HDMI cable, and a Canon camera bag. This high definition video camera has a 32x optical zoom, 1060x digital zoom, and a 53x advanced zoom.
I still have an older Canon camcorder that I purchased 7 years ago, and it still works great! However, unlike the Canon Vixia HF R400, my older camcorder uses MiniDV tapes, which makes the transfer of videos to my computer an exceptionally lengthy process.
The Canon Vixia HF R400 makes it easier to transfer your videos to your computer, since the videos are stored on an SD card instead of a MiniDV tape (like older camcorders). I would have loved to use a digital camcorder like this when I used to make movies with my friends, since it would have made the process so much easier for me (especially when I had to edit the videos on my computer).
The Canon Vixia HF R400 retails for $288 at WalMart, and it's $379.99 on Amazon. I've included a snippet of a review of this camcorder from a satisfied Amazon customer below:
The video quality on this model is excellent. The performance in low light is slightly grainy but very good and better than usual for a camera in this price range with a small sensor, and as good as some far more expensive ones I've used. The audio quality from the built in mic is very good.
If you need an affordable camcorder, you can't go wrong with this Canon Vixia HF R400 bundle. Get it while it's still available, Bargainmoosers! I hope you all enjoy the rest of your weekend!
(Expiry: Unknown)