The Source Canada: 50% Off JBL Duet2BLK II 2.0 Speaker System - Now $70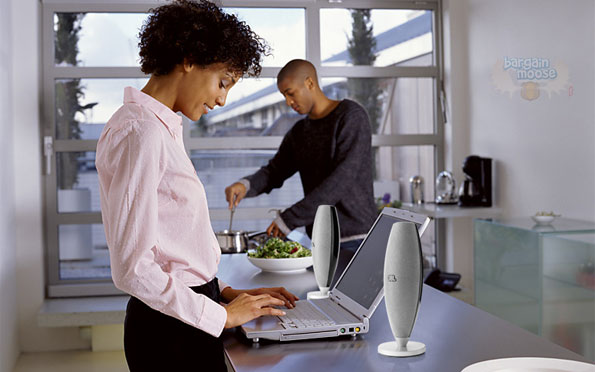 Need new speakers? The JBL Duet2BLK II 2.0 speaker system is on sale for just $69.99 at The Source right now. They were originally priced at $134.99, which puts them at half off!
These speakers come in a pack of two and feature Phoenix transcuder technology with a great bass. They're easy to set up and as you can see on the picture above, can easily be placed on just about any surface.
Reviews
Although there are no reviews for these speaker on The Source's site, I did find a couple of very useful reviews at Amazon, where it's currently sold out. With 19 reviews thus far, these speakers have generated a general consensus of 4/5 stars with reviews like this one:
So first impressions: the Duet II is easy to set up and easy to use. Basically, there are only three pieces to the unit; the adaptor, the left speaker, and the right speaker.
And here's another one:
For someone who listens almost exclusively to classical music, I would recommend these reasonably priced speakers to listeners who do not need the exaggerated base response one hears in rock and rap music.
The reviewer further goes on to say that it's nothing against other musical genres but in his opinion, the speakers are simply better suited for classical music. This is a fact echoed by a ocuple of other reviewers as well, who have praised the JBL speakers for listening to jazz, blues, vocalist music, etc.
$20 off $100+ code
Last week, Avigayil blogged about a The Source coupon code for a $20 discount when you spend over $100. While this code can't be applied if you only get this speaker, you could, however, apply it if you add a filler item and reach the $100 minimum threshold. Check out your local The Source flyer for inspiration or there are also hundreds of deals in the clearance outlet section.
This Samsung NX1000 20.3 MP camera, for instance, is on sale for just $399.96 (reg. $699.99) and is actually as high as $759.98 on Amazon (in a white colour though).
Shipping
Shipping is at a flat rate of $4.99 per order but if you don't use the coupon code mentioned above, then you can instead use the Source coupon code: TS4411 to get free shipping on any order.
Alternatively, you can also choose to pick up your order in-stores for free without the use of any code.
(Expiry: 4th February 2015)