The Source by Circuit City: 6 Days Of Doorcrasher Deals!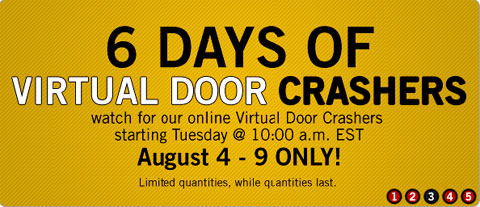 Bargainmooser Shayne has sent me notificaion of a new sale starting today @ The Source By Circuit City. I'll paste some of his email in here for you to see:
I saw this deal a couple of days, and I thought it was worth mentioning to you, in case you wanted to post it on Bargainmoose. It's from The Source, and from August 4th at 10am to August 9th they are having "virtual" door crashers. I think by virtual they mean online only. I visit their site frequently, and when they have deals, they have deals!! Another plus is they accept Interac Online, so instead of using your credit card to purchase, you can use your debit card, as long as it is setup for the internet. (Only takes a few minutes over the phone with the bank)

Just thought I'd share this with you, in case you wanted to mention it to other bargainmoosers. Feel free to change my wording around, as I am not the best writer. :)

Thanks,

Shayne
Thanks for the excellent heads up Shayney!! And that's also a very good tip about interac.
Click here to shop online @ The Source Canada
Here are the deals - I will try and update this post as and when I can:
Tuesday 4th August 2009: Centrios wireless floating speaker for ipod and mp3 (Search for item number 4019102) for $29.99
Wednesday 5th August 2009... COMPAQ PRESARIO V6310CA LAPTOP PC Demo only (Search for 2515820) for $399.96

Thursday 6th August 2009... CENTRIOS™ 8 INCH PORTABLE DVD PLAYER (Search for 1611558) for $99.99

Friday 7th August 2009... HOPSCOTCH BOB CONTROLLER (Search for 6311800) for $9.96

Saturday 8th August 2009...
Sunday 9th August 2009... HOME GUARDIAN 2.4GHZ SECURE WIRELESS DIGITAL VIDEO BABY MONITOR (Search for 4918715) for $99.99.