Telus 72 Hour Sale: Cellphones for $0 (On 1 Year Plan)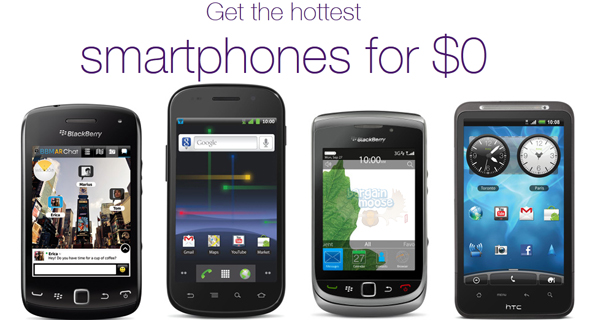 Over on the Telus Mobility website, they've started an online only sale for 72 hours, with some special offers on various cellphones.
So, if you're in the market for a new cellphone, you could have a browse of their offers.
I clicked in to the Ontario deal to see the example offers, so these might vary depending on your province. But here are some examples:
Free Blackberry Curve 9380
Free Nexus S
Free Blackberry Torch 9800
Free HTC Desire HD
All of the above phones come on a 1 year plan - otherwise the handsets are big bucks to buy on their own. That's not bad - you're only tied in to the plan for one year.
Out of the above named handsets, I don't have much experience with Blackberries at all, but my other half has the HTC Desire HD (I've got the iPhone 4). When he first got the phone, I noticed that his screen size was a teensy weensy bit larger than my screen, and the green-eyed electronics jealousy monster reared its head. But even though the HTC Desire HD might have a lovely screen, I still prefer my iPhone (a burgeoning Apple fangirl here!).
Just make sure you read the specifications of the handsets and the small prints of the plans, to make sure you are getting what you need.
(Expiry 1st August 2012)