Tbaytel ZTE Z222 Flip Phone For FREE ($2 Shipping) @ Future Shop Canada!!! Glitch? (EXPIRED)
Here's an odd little deal! Future Shop is offering the black Tbaytel ZTE Z222 Flip Phone for only $0.00 right now! The shipping fee is only $1.99, so you're getting a new (albeit old style) phone for only $2!
The stock status of the Tbaytel ZTE Z222 on the Future Shop page currently says that it is temporarily out of stock online. But, you can actually add to cart and place an order on "backorder." Here's a screenshot of my test shopping cart: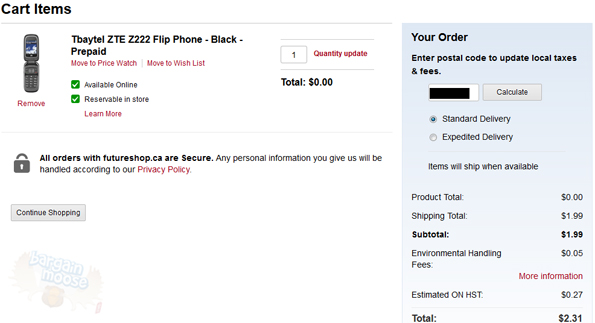 Even if this is a glitch on the Future Shop site, there's no risk involved here – if Future Shop don't honour the orders and send you a free phone, then you're not losing any money. But, if you are interested, give it a try and you just might get lucky if they decide to honour the orders.
This is a prepaid cell phone meaning that there's no contract or anything to worry about. It's probably locked to Telus, so you may have to pay someone to unlock it, down the line. It could be a good deal as a back-up phone, to have in case your main phone goes kablooey!
(Expiry: unknown)