Take 50% Off Up by Jawbone Activity Tracker Only $40 Today @ Future Shop Canada (EXPIRED)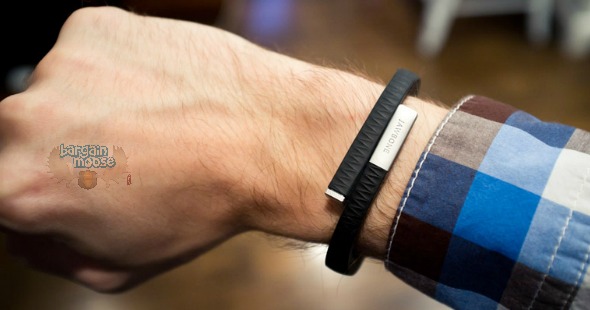 Future Shop Canada has an offer valid today only on the Jawbone Up Wristbands. Today, you can take 50% off the original price of the Jawbone Up - which leaves you paying just $39.99. I am sure many of you had New Years resolutions to be fit or more active, maybe this can help. After all, we are just two weeks into our resolutions at this point.
This particular Jawbone wristband is the entry level "Up". You can count on this wristband to keep track of the calories you burn, the steps you take and even how well you sleep. You can plug the Jawbone Up into charge with the USB charge cable, and your charge should last you up to ten days. You can choose between blue and black when it comes to colours. Personally, I really like the aqua blue but black would match any outfit.
While other retailers may have more colour options available, Future Shop Canada has the lowest price around. You can select from red, onyx, blue, grey and more from The Source Canada but you will be paying $139.99. You will pay upwards of $89 @ Amazon.ca as well.
There is nothing I hate more than the sound of my blaring alarm early Monday morning. This Jawbone Up wristband for just $39.99 has a silent alarm setting. You can wake up gently with the vibration and silent alarm. The Jawbone Up tracker will even make note of an optimal time in your sleeping pattern to wake you up, to ensure you feel as rested as you can.
You can also sync your new Jawbone Up wristband from Future Shop Canaca to MyFitnessPal and other weight loss apps. This is ideal if you have New Years resolutions to keep fit, lose weight or be more active in 2015. Keep it up!
Unfortunately, the Jawbone Up wristband is not adjustable. You will need to by size small, medium or large depending on the measurement of your wrist. The small band is for wrists 5.5 to 6 inches, the medium band is for wrists 6 to 7 inches and the large band is for wrists 7 to 8 inches. Another downfall is that these Jawbone wristbands lack a few features that other tracking wristbands have. You will not be able to monitor your heart or elevation.
You won't have to worry about any shipping and handling fees either. This Jawbone Up wristband automatically qualifies for free shipping from FutureShop.ca because it is over $25 after discounts.
(Expiry: 15th January 2015)