Sweet 20" Acer Monitor For $142.49 @ Buy.com Canada
Do you need a little extra screen real estate? Would you like to see more when sniping on eBay for those last minute bargains? Would you like to have to scroll down less when reviewing your friends' statuses on Facebook? If you're still using that old 14" CRT screen, I'm LOLing at you! Get an LCD monitor! It's about time! Buy.com have a pretty good deal on this 20" Acer Widescreen monitor.
When you click through to the site and search for "X203H" you will see that it is priced at $149.99. But everything added to your cart will be reduced by 5% - making this monitor only $142.49. Here's a sweetener too – free shipping! Can't say fairer than that!
Here's a little bit of the specification to whet your appetite: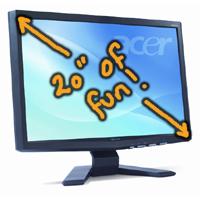 Screen size: 20"
Max Resolution: 1600 x 900
Brightness: 300 cd/m²
Maximum Response Time: 5ms
Ports: VGA & DVI
Warranty: 3 year
In my humble opinion, that's a pretty good spec. It would be a good all-round monitor, for basic office work, home entertainment, even gaming. I like how it has a 3 year warranty, that's a bit better than your standard 1 year. I've never owned an Acer screen, but I've heard pretty good things about the brand. If you're just using a 14" or 15" screen right now, the jump up to a 20" is quite substantial – makes things a lot easier to do when you're working on the computer.
If you'd like to check out some customer ratings and comments, most users gave this monitor an excellent rating over on NewEgg.ca.
And for those of you who like getting something for nothing, use Dealguild Canada for 2% cashback on your Buy.com buys!