Staples Canada: Up to 56% Off Storage Solutions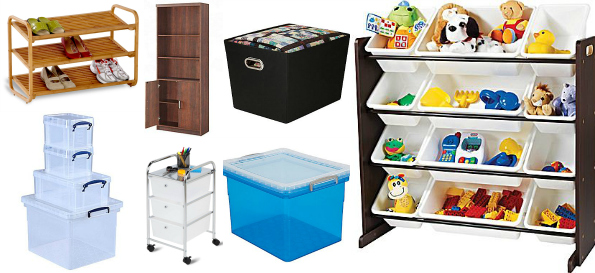 Staples Canada is throwing a storage sale for all your organizational needs. if you have a few too many new additions to the household thanks to Christmas, save up to 56% on a new set of drawers, boxes, shelving system and more from Staples Canada. I know that the sale says 'up to 40% off' but you can even see from my very first item that there are higher discounts you can grab. :)
The best deal - in my books - is the sizeable Really Useful Boxes 31L File Box, Blue on sale from $16.99 down to $7.48. The smoke colour is an extra $3 per box and the red isn't even on sale. These large boxes can be used for nearly anything you could dream of: toys, canned goods, files, spare bedding, stuffed toys, LEGO, and more!
I was super impressed with the deal on this Honey Can Do 3-Drawer Rolling Cart: originally $91.99, the drawer set is on sale for $55.19. The rolling cart has three very spacious drawers that can store almost anything! Turn it into a sock and underwear caddie, use it for storing and moving toys between rooms (those wheels are useful) or turn the binds into storage for dry goods. Did you know that the same exact stacked drawer set costs $100 at Walmart? I did find it for $67.77 at Amazon but we are still talking an extra $12 there.
I had to give in and buy a shoe shelf for my front closet - there are just too many shoes and not enough space! This Honey Can Do 3-Tier Deluxe Bamboo Shoe Shelf is currently on sale from $89.99 down to $53.99. Guess what? Home Depot AND Amazon are selling it for $71.87. You will love the durability of bamboo and how much space you save with the three-tiers for shoes. The Honey Can Do 2-Tier Bamboo Shoe Shelf is only $27.99.
If you are looking for affordable storage solutions, check out the Really Useful Boxes 3L Storage Box, Transparent, Clear on sale from $10.76 down to $6.46. The boxes are clear so that you - at a glance - can see what is inside. Use these for storing toys, extra linens, tools, and more! These are your most versatile 'catch all' storage containers and I really like the handles on each side for lifting.
For all those books you received this Christmas, pick up the Whalen Trinity 5-Shelf Bookcase with Doors, Cherry on sale from $119.99 down to $95.99. This mid-range shelf unit is unique in that the bottom two shelves are covered by doors.
Receive free shipping on $49 or more. Also, you can pick up smaller orders in store so even if you do not reach the minimum (say you stock up on those 31L boxes), you still don't have to pay for shipping.
(Expiry: 19th January 2016)