Staples Canada: Lug Tuk-Tuk Carry-All Bag Was $113 | Now $69 & Free Shipping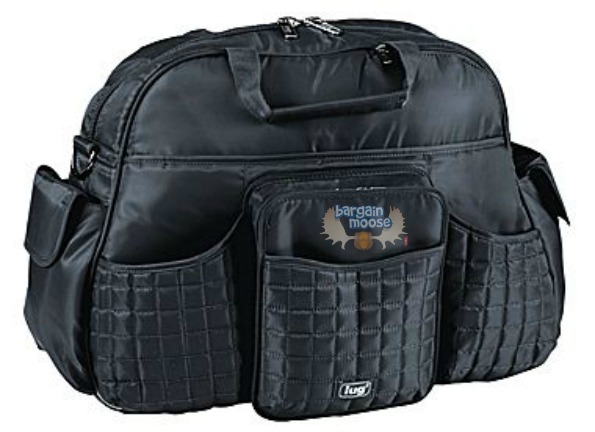 Staples has a sale on right now on the Lug Tuk-Tuk carry-all bag, regularly $113, now $79.10. If you click through this link, you'll also get a unique exclusive coupon code for $10 off $75, which you can use on this purchase (or any other purchase) at Staples. That brings the total for this bag down to $69.10.
When I first saw this bag, I thought it looked like the perfect bag for travelling. With lots of pockets and plenty of room inside, I could probably carry my laptop, phone, tablet, pens and beauty supplies along with me easily. I was a little surprises to find out it is also a diaper bag. You don't have to use it as a diaper bag, but it is so functional, it doesn't matter what you put in it - I guess that's why it is labelled as a "carry-all".
I refused to carry a traditional diaper bag when my kids were small. I liked to travel light and didn't think they needed every creature comfort from home just to go to the grocery store. I breastfed so that was taken care of. I kept diapers and wipes in my vehicle and I usually brought along one small toy to play with. I would have been in trouble if there were any accidents, which really only happened to me once with baby and to myself (like the time my child spilled an entire cup of chocolate milk on me at a restaurant) a few times.
But, this type of bag I would definitely carry. I could keep an extra outfit for babe, plus my phone and laptop if I so needed to! This bag is stylish looking and even with the included change pad, I wouldn't feel embarrassed taking it to a fancy restaurant. I like that it is water repellant and has a hidden (perfect!) strap for strapping it on to the stroller.
I found this bag as much more expensive prices at Lug Life, where it is $124; at SnuggleBugz, where it is $103.99 and at Amazon, where it is $113.
Shipping will also be free on this bag.
(Expiry: Unknown)