Sony Canada: Sneak Peek @ Boxing Week Deals Starting December 25th Online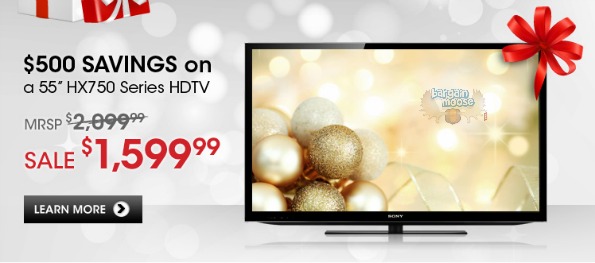 Sony Canada has given us a sneak peek at their boxing week sales starting on December 25th online and December 26th in-stores.  Sale will be for a limited time only while quantities last.
This wonderful 55" Bravia LED HX750 Internet HDTV is currently $2099.99 and will be only $1599.99 starting Christmas day.  I did find it at Samys.com for $1498, but that is after mail in rebate.  Without rebate it's $2098.  It is also at Calibex.com for $2631.99.  I like this deal much better. You get the sale price right away with no mail in rebates. This TV has 3D in full HD, built in Wi Fi, Sony entertainment network, skype and so much more.
They are also advertising this Ultra Compact Palm Size Digital camera that is $249.99 for $199.99 during the sale.  I found this on sale at Amazon.com for $224.99 and that was the next lowest price I could find anywhere for this camera.  This is available in black, silver or pink and has tons of great features.
I also saw these Digital Noise Cancelling Headphones that are $199.99 regularly and during sale will be only $89.99. I found these for $160 on Nextag.com and $193.95 on Amazon.com, so this deal is truly awesome, but this expires on January 3rd 2013.
Remember this is a sneak peek, so there will be more. For more Boxing Week deals take a look at the Bargainmoose Boxing Day dashboard.
Shipping: Free for standard delivery to most areas.
(Expiry: Limited time only)