Seagate Expansion 2TB Portable External Hard Drive Was $176 | Now $89 & Free Shipping @ Amazon.ca (Expired)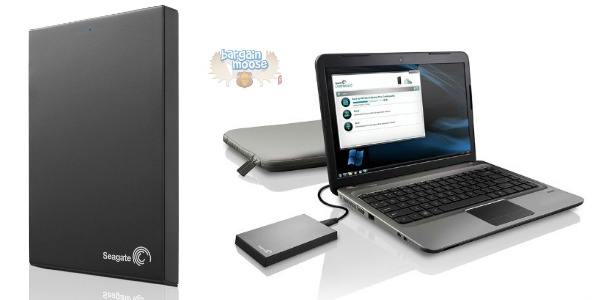 Back up those files on your hard drive with the Seagate 2TB Portable External Hard Drive. This drive was $175.99, but you can grab it now at only $88.99. Free super saver shipping is included with this deal.
Amazon is having a nice little deal to help you be organized and keep it all together. This seems convenient at a time when everyone is starting their taxes and is looking in a little more detail than normal into their electronic records. Back up your hard drive with the Seagate Expansion 2TB external hard drive. This is a great time to sort those files and get organized.
This portable device has 3.0 USB technology to help you move files quickly back and forth between your main machine and your backup. If your hard drive is clogged with media, you can free up some space with this portable drive. This drive will store 480,000 pictures or 362 dvds that are two hours each. This little drive is pretty powerful for a basic backup.
You do not have to be super technologically savvy to use this drive. The whole system is plug and play, and files can be dragged and dropped onto this hard drive. This might be a great option for my father in law, as we prefer things to be simpler when offering tech support to him through Skype. I have personally owned a Seagate external hard drive in the past, and it was super simple to use.
This drive has four and a half stars out of five with over 100 reviews. Here is one reviewer who is very happy with this external drive.
I just received this external hard drive... I had absolutely no problem connecting.. I just plugged it in my USB and was able to do backup instantly!!! since I am not very technical, I was afraid of running into difficulties but NO - it works fast and plenty of space for what I'm going to use it for...
Sounds like this drive will be quick and easy for almost anyone to use.
Futureshop.ca has the best deal on this hard drive among the competitors, pricing it at $100.89. You could buy this hard drive from Dell and pay $104.99. You could choose to pick this up at Tiger Direct Canada but you would pay $109.97. BestBuy.ca has this for $110.89. These prices are all pretty close, but Amazon beats them all.
You could also go for the other deal available at Amazon, which is the 1TB drive, now only $64.99 with a regular price of $89.99. Just click to 1TB to see that deal. Obviously the 500GB deal is not great as the price is more than what it is for the 1TB.
Pick this up today folks. This is an Amazon deal of the day, so if you wait the deal will be gone. This is a great price for a little bit of extra storage and a lot of peace of mind. Even better, you can start the new year with a fresh clean hard drive for pictures, movies, taxes and all your important files.
(Expiry: 26th February 2015)