(Save 75%) Lexar 128GB Flash Drive Was $176 Now $44 @ Amazon.ca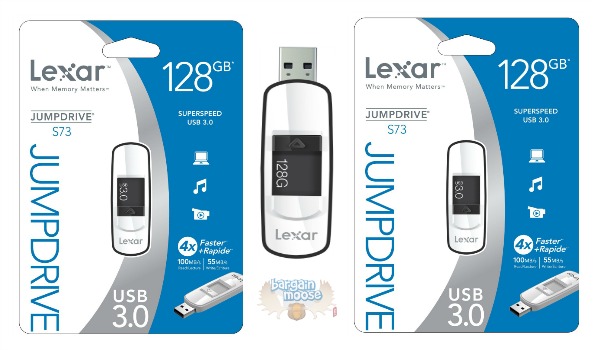 This is the perfect deal to keep all of my movies portable that I received over the holidays. Amazon.ca is having a deal right now for 75% off a 128 GB USB 3.0 Flash Drive in black, it was $176 and it is now $43.99. It also qualifies for Amazon's free shipping.
This flash drive is the perfect way to keep all of your media and files portable between devices. I mentioned previously in the Cineplex Store Boxing Day Sale that we have been moving much of our media to a digital format. With a small kid in the house we have found one of the simplest cordless ways to move movies and TV shows from the computer to the TV is to plug a flash drive into the blu-ray player. Our player then quickly allows us to start the show. Cineplex is still having some great deals on downloadable and disc format media through January 2nd if you are interested in trying this method also. Plus  you get a night out at the movies in the theatre whether it works for you or not.
This drive is also great for storing music to move between devices. Plug and play into a compatible player and your phone is free for other more important things such as playing Candy Crush while you listen to some tunes without draining the battery. A drive like this is also an easy way to transfer photos. With the 3.0 technology, any media files will transfer much quicker than the standard 2.0 drive.
Of course, this is also a great option for work or school as well. Though cloud storage is useful sometimes, the files you are working with are sometimes just too large to upload into any cloud system. I do not know about you but my "cloud" is so full it might just rain media. I also found when giving a presentation it is always good to have a backup copy of it that is not internet dependent. A flash drive or three on hand always seems to come in handy no matter how much I have in the cloud.
Please take note that this drive is available in other colors and sizes. If you start clicking around you may notice the price changes. Just take note of the GB on the color you are buying. Nothing worse than thinking you are getting a cool blue drive for less only to find out it only has 8GB when it arrives.
I did a little sniffing around the web. Here is what you will pay at the competitors for the black 128 GB drive.
$59.99 @ Best Buy.ca
$59.99 @ Future Shop
$80.99 @ TigerDirect.ca
Overall reviewers are enjoying this drive and say it lives up to expectations. This reviewer suggests this flash drive for movies and music also.
I now own three of these. I put entire movies on these drives and then transfer them to my 3 TB drive on my PC. One of these jump drives will hold a lot of movies for transfer to a friend's house without the hassle of bringing an entire hard drive and the wires to hook up. Lexar makes a great portable solution very easy. Just plug and play.
Overall, a great little flash drive for the price that will give you a lot of speed and power. Bargainmoosers what would you use this little drive for?
(Expiry: Unknown)