Price Matters Canada: PlayStation Move Bundle only $44.99 (Refurb)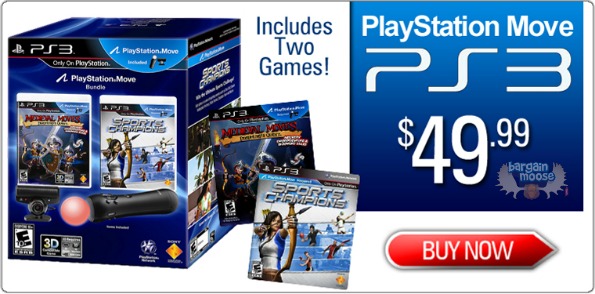 Price Matters Canada has a hot deal on the Playstation Move Bundle, now only $49.99. This system usually sells for over $100 at other stores. Plus, when you use our exclusive Bargainmoose Price Matters promo code (bargainmoose) for an extra 10% discount, you can get it for $44.99!
The PlayStation Move bundle features everything you need to get started playing this realistic motion gaming experience. Featuring the games Medieval Moves: Deadmund's Quest and Sports Champions, use the motion controls to battle, throw, swing and much more. Fight skeletons, take over a kingdom, or enjoy a game of table tennis. This bundle wholesales for $94.99, so you are getting it for almost half the price of wholesale.
While researching reviews of this system, one reviewer said that this system is better than xBOX Kinect, based on it being a "more mature system". I didn't see any poor reviews of the system or the games included.
Please note that this product is Recertified, which means it is one that was returned by a customer, for whatever reason, and then restored to original working condition after undergoing an intensive inspection process by qualified technicians. Price Matters guarantees their products to be in working condition and to have been successfully tested for optimal performance. They do offer a seven day return policy for both in-store and online purchases.
I would say this is a good deal for a guaranteed working machine, even if it is used. You can't do better on kijiji.
Shipping depends on location.
Expiry: Unknown