Preferred Customer Sale @ Best buy Canada!
Every few months, Best Buy Canada goes slightly bonkers and has one of their preferred customer sales. I'm saying they're bonkers because I have absolutely no idea why they call it a "preferred" customer sale, as it's available to anyone and everyone. Marketing, schmarketing, eh?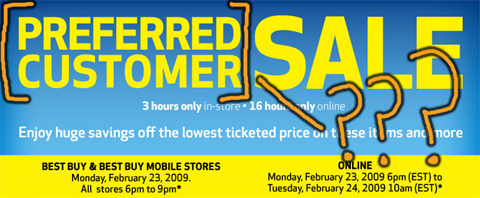 Online: Mon 23rd from 6pm to Tues 24th 10am
In-store: Mon 23rd February, 6-9pm
You can read about all the discounts and offers on this landing page on BestBuy.ca.
Some examples of the discounts that will be available:
5% off all TVs
10% off all MP3 players

20% off

All PC Games
$100 off all SLR cameras
$100 off laptops from $1000+
10% off GPS portable devices

20% off All Home Theatre Speakers

20% off All Kitchen Appliances
If you want to shop online in the comfort of your weather-beaten sofa, just add stuff to your cart. The magical discount fairy waves her virtual wand, and the prices of the items in your cart will drop.
They do have a "No Interest, No Payment Offer" running, which could be really handy if you're a bit strapped for cash, but you still want a 50" plasma to show off to your friends. However, if you want to do that, you'll have to drag your ass into the shower and get cleaned up before you head out to the store, as they only do the credit offer in person.