Newegg: Anker 40W 5-Port USB Charger Only $28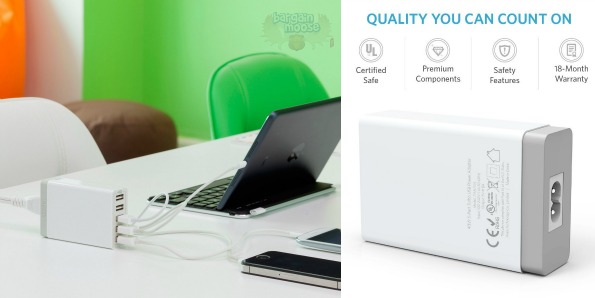 Newegg Canada has a very good deal Pre-Boxing Day on the Anker 40W 5-Port Family-Sized Desktop USB Charger. Originally $49.99, this 40W USB charger is on sale for $22.99 plus $4.99 shipping for a total of $27.98.
This price is only valid for the white unit; the black unit is still full price. For a little perspective, Amazon Canada is selling the Anker 40W five-port USB charger for $35.99 currently. For an even better comparison, I have blogged about this Anker USB charger before, when it was on sale for $29.99 from Amazon Canada. That was the cheapest I have ever seen it so this offer from Newegg Canada is a couple dollars better.
One of the things I love about Anker is their universal compatibility. With POWERIQ technology, the USB charger adapts to whatever device you throw at it, be it Android or iPhone, to output the correct amount of power for that unit. That is why this Anker 5-port charge is compatible with so many different units including the iPhone, iPad, Galaxy, Note, Tab, Google Nexus, PS Vita, Gopro, and other external batteries.
I have read reviews on both Amazon and Newgg for this unit. It is so interesting to see all the rave reviews on Amazon to come across to Newegg and see the wide spectrum of reviews. Some reviewers have found that one of the five ports has a tendency to fail - primarily port #3. Oddly enough, this is not widely documented on other sites.
Now, I bought one of these USB charges because we now own a zillion electronics that charge via USB. With two phones, a tablet, and portable speakers... there is always something on the charger. We have our plugging spaced at #1, #3, and #5. I have been using mine since September and none of the ports has failed. Anker is generally very good about their warranties so if you have a problem, make sure to contact them.
This is part of Newegg Canada's Pre-Boxing Day sales event happening right now. There are other deals you might find interesting in the sale, like this EVGA TORQ X10 901-X1-1103-KR Black Wired Laser Gaming Mouse on sale for $42.99 + $4.99 shipping. There is even a $10 rebate for the mouse, so in the end it will cost you $32.99 plus shipping.
(Expiry: Unknown)