NCIX Canada: Microsoft Wireless Mobile 1850 Mouse Was $25 | Now $9 + FS On $25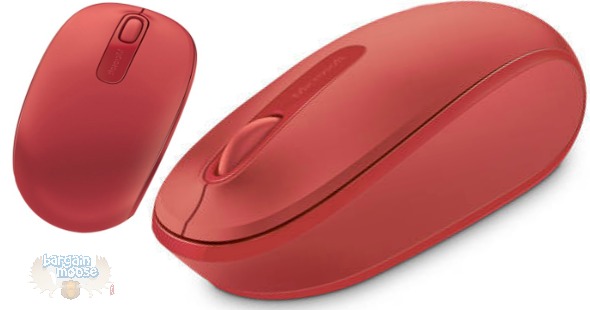 Tired of playing cat and mouse with your laptop touch pad? Snag this Microsoft Wireless Mobile Mouse 1850 in red for just $8.99 before the price goes back up to $24.99. The price will go back to normal on the 18th of May, which is tomorrow. We even have an exclusive coupon code to get you free shipping when you spend $25 or more instead of getting free shipping when you spend $50 at NCIX.com.
I really do need to invest in a mouse for my laptop. It would make maneuvering through my different pages and programs so much easier and quicker. However, I have a very frugal mind (naturally). I just couldn't picture spending more than $10 on a little plastic device. My second problem, is that I live for quality. So finding a quality mouse for under $10 has proven to be very difficult. Not anymore! Right now NCIX Canada has the Microsoft Wireless Mobile Mouse 1850 in Red for just $8.99. This spiffy little mouse was originally priced at $24.99 and has quite a few excellent features.
Other colours are available for similar prices as well, if you have a preference over red.
Take a look at the prices on this mouse at other Canadian retailers:
There is a "savings code" to get the discount on this Microsoft Wireless Mouse, but I actually found that the discount was automatically applied. Either way, the savings code is 105337-1382 to redeem your $16 discount. This code is only valid through May 18th, so snag the offer quickly. This Microsoft wireless mouse has a Plug-And-Go Nano Transceiver, so it is wireless. The optical mouse will require one AA Alkaline Battery, which is included. Microsoft designed this mouse with life-on-the-go in mind. It is compact and wireless, making travelling with this mouse quite convenient. I find myself using my computer in coffee shops and other public places, so a mouse built for travel is ideal for me. I find cords to be quite annoying, but on the other hand you don't have to replace batteries with a USB cord mouse.
NCIX.com offers free shipping on orders over $50, but we have an exclusive coupon code to get you free shipping when you spend $25 or more. Just enter the code MOOSE at the check out process to apply this promotion. I am sure it won't be hard to find something else to add to your cart at NCIX.com. You can see even more NCIX Canada coupon codes in our Bargainmoose forum.
(Expiry: 18th May 2015)